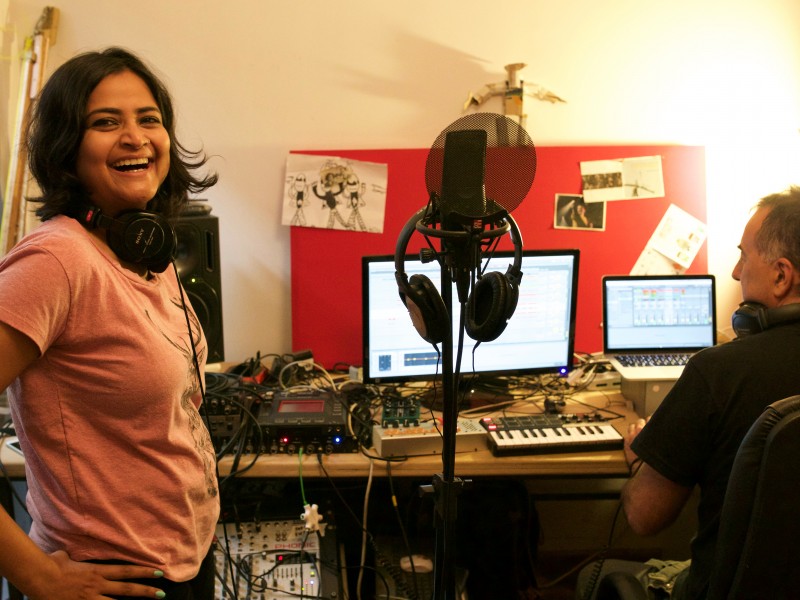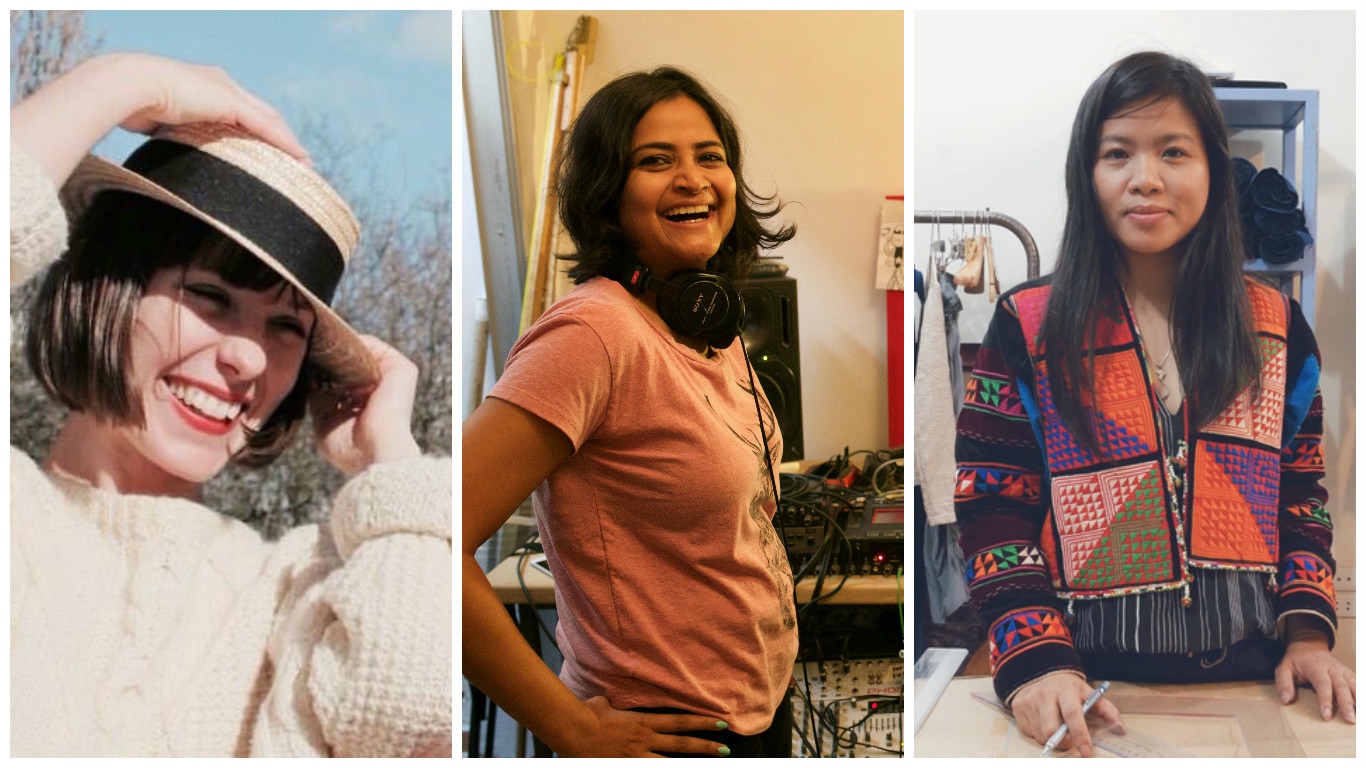 Vacation with an Artist: New Platform Connects Travellers with Global Creatives
Vacation with an Artist - a new travel platform connecting travellers with artist studios around the world to learn a new skill. Juliet Imbert (left), a Parisian designer learned ceramics in Slovenia; Geetika Agrawal (middle) - founder of VAWAA.com; Vu Thao (right) - Vietnamese textile artist who offers travellers an indigo dyeing session through VAWAA.
During her 12 month jaunt around the world—from Slovenia to Vietnam, Peru to Malaysia—Geetika Agrawal, a Delhi-born, New York-based creative director and design educator, turned her passion for arts, culture and travel into a new creative startup.
Vacation with an Artist (VAWAA) is an eight-month-old travel platform helping travellers connect with artist studios around the world to learn a new skill.
With travellers being exposed to new and diverse ways of exploring the world, the possibilities of how you experience a new destination, its people and culture are limitless. Travellers are actively seeking deeper, immersive experiences with locals where creativity, collaboration, knowledge-sharing and intellectual stimulation in a cross-cultural environment is preferred over passive beach vacations. If you're an artist, designer, on a sabbatical or practicing slow travel and yearning to learn something new while globetrotting, VAWAA may be your ticket to experiencing a new destination through a creative, artistic lens.
Learn rattan weaving in Malaysia, natural dyeing in Vietnam, work with a street artist in Argentina, learn music production in Uruguay or contemporary ceramics in Slovenia. These interactive, creative experiences are for one to three guests at a time and range anywhere from 10 hours to 100 hours, typically over a couple of days to a few weeks. Taking place in an artist's workspace (either in their home, atelier or outdoors), travellers looking to dive into a new skill experience a seemingly longer, hands-on experience with periodic or daily interaction with the artist—different from the typical two or three hour workshops usually offered to tourists.
The Founder
For Geetika, the idea for VAWAA had been brewing for a long time, inspired by her early childhood and college travel experiences in India, her academic background in Architecture and Industrial Design and from her personal need for creative learning during her travels that has taken her to over 40 countries. "When I was in architecture school we used to have a summer program where we would go spend time for a month with local craftsmen in India learning their craft and we used to travel to really off-the-beaten path locations, exploring the arts, design and culture. Even while growing up [in Delhi], my dad would always take us on road trips and we would go every summer to the hills. Travel for me has always been about local exploration, connecting with people and finding new inspiration. I've never been much into checking off the touristic things."
Over the last several years, Geetika has worked in the interactive space, combining design with technology, spending the last 8 years as Creative Director at R/GA, a New York-based digital agency. "Living in cities like New York and constantly being in front of screens can get exhausting. I've become a huge fan of slow travel over the last few years. Instead of jumping to multiple destinations, I prefer staying in one place and slowing down the pace. I can't sit still either, so I end up looking for new things to learn. Once, I learnt silver jewellery-making in Indonesia and trapeze flying in Dominican Republic, but it's always been very hard to find creative people to learn from which is why VAWAA was born."
Further inspiring her were two former colleagues, who, after learning the Japanese art of shibori dyeing during their sabbatical leave in Bali, changed careers and moved to Mallorca, Spain to run their own textile art studio Espanyolet. "For me, seeing their journey was exactly what I wanted to be able to do."
The opportunity to work on her idea took shape when a friend of hers told her about a new startup company, Remote Year, a program for digital nomads to travel the world while working remotely. For $27,000, international travel, accommodations and a wifi-enabled workspace is included for one year while chosen applicants work on their individual remote projects. Geetika applied and was one of the 75 digital nomads chosen for a 12 month journey to 12 countries: Czech Republic, Slovenia, Croatia, Turkey, Malaysia, India, Vietnam, Japan, Argentina, Uruguay, Chile and Peru.
Taking a sabbatical from work between June 2015-June 2016, Geetika used her time travelling to launch VAWAA. "Some [of the remote year travellers] had jobs with existing companies or they found new jobs working remotely. There were very few of us on a sabbatical there to do something else. Everyone was working on their own thing. I wasn't looking for a vacation, I was looking for a different challenge and this totally combined my two favourite lifestyles – work and travel."
During her remote year, Geetika focused on personally curating and vetting the artists, visiting them in their studios, taking photographs, developing the VAWAA brand and launching the site in November 2015, six months into her travels. When curating the artists, Geetika has a process and criteria in mind. "I look for two things – their depth and mastery of art so they have an immense knowledge to share with different skill levels, and an open, welcoming personality to spend a few days with people from around the world."
When booking a studio session with VAWAA, travellers can expect a longer studio session to delve deeper into a new skill, interaction with a local artist, an immersive experience and even the opportunity to collaborate on a project with the artist. "There are general guidelines for what to expect in these studio sessions which varies from artist to artist, but there is room to personalize the experience. The other thing is you are experiencing the daily life of the artist so if the artist is going to the market to buy certain things you go with the artist, or if the artist is having an exhibition, like recently a girl from Brooklyn went to Buenos Aires to work with fileteado artist Alfredo Genovese who was doing a talk at a big exhibition, so he took her along with him to his talk. You build your personal connection with the artist and take it wherever you want – you can focus on certain aspects of the art, you can focus on the basics or you can work on a specific project. You are experiencing the daily life of the artist – it's your personal time so you can make the most of it."
The Traveller
For Juliet Imbert, a French artist and eco-fashion designer from Paris, collaborating on a specific project with Katja Špiler, a ceramics artist from Slovenia, is how she created an enriching, life-changing VAWAA experience for herself. Connecting over Skype, Juliet rolls a cigarette and sits back casually as we begin. She is a young, stylish artist with an energetic spontaneity that carries into her travels. Not new to solo travel or finding work wherever she goes, Juliet has spent a year in India sourcing fabrics for a buying agent in fashion, has completed an artist residency in Vienna, Austria at Quartier 21 and balances her professional life between luxury fashion houses, advertising, magazines and her own brand of ethical, upcycled garments and objects. "I'm a freelancer so I have a chance to say, okay, let's go to Slovenia for a week!"
With that same carefree attitude, she found VAWAA on Facebook and within a week booked her session and ticket to Slovenia. "For a long time, I wanted to learn to make doll heads in ceramics, I was quite interested in that, and there are lots of exhibitions about ceramics right now in Paris. I was interested in contemporary ceramics, but I didn't know Katja worked in that technique, using plaster to do moulds. I've asked people to teach me that in plaster, but no one does it so she was the person I needed." 
Over the course of the five-day session in Katja's studio, a creative spark ignited between the two. "I was expecting nothing, just you know, I'm here for a week to learn ceramics, let's see how it goes. And it was a huge surprise and a beautiful one. Spending days working on that project, we were both learning together and discovering concepts. Katja is a friend now, we Skype and I'll be back in Slovenia in September to collaborate with her again. I really feel complete now, to have skills in fashion, knitting and ceramics. That's why this project with VAWAA was really important to me. I was not conscious of that and now I am because I did it. It's like I needed something else in my heart. Now I have it and I feel complete."
Discovering a country with someone who lives there made the experience authentic for Juliet. "There was no tourism at all. I was in a ceramics studio in Slovenia and I was here for that. It was an immersive experience in ceramics for me. With something like VAWAA, you build a relationship with the artist and share ideas. It's more than just tourism."
The Artist
For Vu Thao, a textile artist and fashion designer from Hanoi, Vietnam, it's this idea of learning and sharing ideas that piqued her interest in offering travellers a chance to learn natural indigo dyeing techniques from ethnic groups in a remote part of Vietnam. "The thing that interested me [about VAWAA] is that it is a new concept of studying and travelling at the same time. I travel a lot and many times that's where the creative ideas come from, by observing other cultures and the people around you. You carry this back home and that's how you start to make things."
After working with a number of fashion designers in London and Berlin, Vu launched her own fashion brand, Kilomet 109. Collaborating with ethnic minority women of Mai Chau, Sa Pa and Cao Bang in the mountain regions of Vietnam, she created an eco-sustainable fashion line focusing heavily on traditional techniques and textiles, 100% developed in the country. "We plant our cotton, hemp and silk and we also weave and dye ourselves using 100% natural dye." Her efforts haven't gone unnoticed. In 2014, she was the recipient of the British Council's Young Creative Entrepreneur of the Year Fashion/Design award in Vietnam, travelling to London for two weeks for the awards ceremony. "It's so good to see that people are appreciating what I'm doing so that keeps me encouraged to keep moving forward."
Over the course of five days, travellers who book a session with Vu visit Cao Bang, an artisanal village north of Hanoi. "We depart Hanoi at 9:30pm and we get to Cao Bang at 6:00am. It's quite an amazing transition – Hanoi is a busy city and after an eight-hour trip, we wake up to a gorgeous green landscape. The community I'm working with is the Nung An ethnic group, which is one of the very few ethnic communities left in Vietnam to work as a community. We have 12 women working together in the village, well-known for weaving and indigo dye for a long, long time. This is a very remote area, but it's accessible." Travellers learn to make dyes, understand how to grow indigo, magenta and other natural roots, take part in the pre-dye process and create their very own hand-woven, hand-dyed samples.
Sustainable travel and respect for the culture are very important to Vu when working with travellers. "I learn a lot every time I run the natural dyeing session with people. This area is not touristy at all and I really want everybody to respect that. One person offered to bring some clothes to give to the ethnic people here and I said 'No, I'm sorry, it's very nice of you to do that, but I would prefer not to because this area is well-kept and natural.' This village is next to many other craft villages with artisans, a very rich cultural area so I really want travellers who decide to take the session with me to understand that and respect that. They still wear their costumes, they are living their own culture and it's really beautiful."
Through VAWAA, Vu has already booked a few sessions with travellers this year, mainly with artists and designers from New York– a few fashion designers, an interior designer and a knitting artist. "People who want to participate in VAWAA already have a love for what they are doing or trained in what they are doing so they have experience. These people have a real passion so when they join me they are very serious. The VAWAA platform is selective and because people invest in the trip they are serious and they have a real desire to learn about other cultures which I really like."
The Future of VAWAA
Cultivating a positive experience for the artist, as well as the traveller, is important for Geetika and one of the reasons for VAWAA's initial success. "The artists have been previously approached by tour companies and this is first time they have been excited and open about an idea like this. Part of the reason they mention is because of the focus – sometimes tour companies don't have the intention in the right place. They are more into the money aspect of it or don't understand the art, and aren't sensitive to the artist's needs or even how the art is learned. With my background in design and travel, I can be sensitive to the artist's needs. Speaking the same language [as the artist], and being sensitive to the same things is what brings people together."
Back in New York, fresh from her remote year travels, Geetika is looking ahead to the future of VAWAA. "Beyond expanding the network of artists and countries, I also want to make this a platform the artists themselves can use. As I met with each artist, they have expressed interest in collaborating with each other as an international network of artists. If the Uruguayan musician wants to collaborate with the writer in Vietnam, then yes, I want to make that happen. I want to develop that side of the platform – artist to artist, along with the traveler to artist connection."
With cultural tourism on the rise worldwide, opportunities for creative learning and collaboration are growing, along with a desire for longer, deeper, and immersive global experiences. With a new platform like VAWAA, adventure travellers, sabbatical-seekers, artists and designers craving to explore the world while sharing ideas with like-minded people can hop a plane to Kyoto to learn calligraphy, Bangalore to learn bamboo bicycle making or like Juliet, to Slovenia to learn contemporary ceramics. Whether it's the desire to make something with your hands, to learn a new skill, take part in an artistic process from start to finish, or to express your individuality, all it takes is just a few clicks to kick-start your creative journey.
*Photo Credit: Geetika Agrawal, Juliet Imbert, Vu Thao