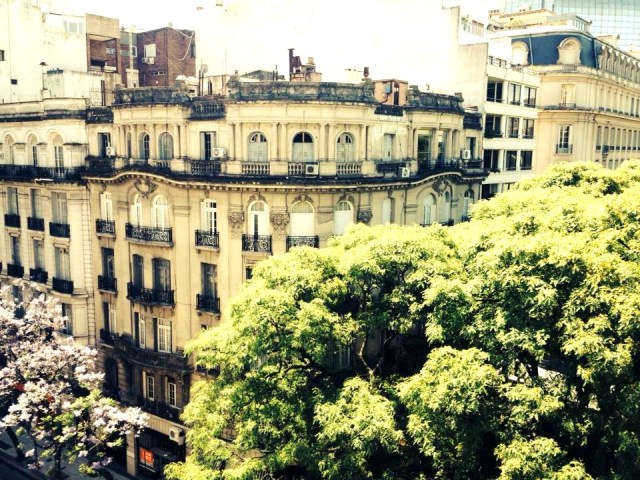 Craving the allure of Paris, the appeal of Barcelona or the magic of Madrid, but not keen on travelling to Europe during the cold winter months? Pack your bags and make your way over to the haute spot of Buenos Aires – discover a slice of Europe in South America. After all, it's spring from September to November and summer from December to February.
A few months ago I globetrotted my way over to South America for the first time, landing in the Argentinian capital of Buenos Aires – THE cultural capital of South America (pop the champagne, I've now stepped foot on five continents!). Besides tango, steak and Malbec wines (which I very much enjoyed) – what is Buenos Aires all about?
Dubbed the "Paris" of South America, Buenos Aires is a unique mash up of European influences – colonized by the Spanish, built by Italian immigrants and influenced by Parisians, yet distinctly Latin. Buenos Aires is known for its rich cultural life and European-inspired architecture resembling Paris, Madrid and Barcelona. Undeniably the most European city in South America, Buenos Aires is stylish, creative, passionate and cosmopolitan – being equal parts bourgeois as it is bohemian.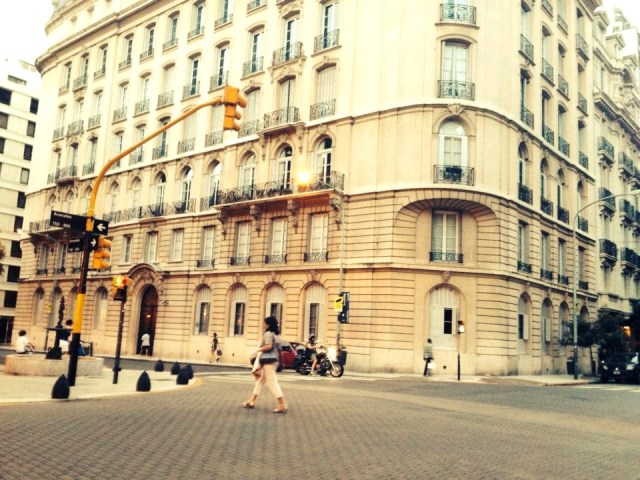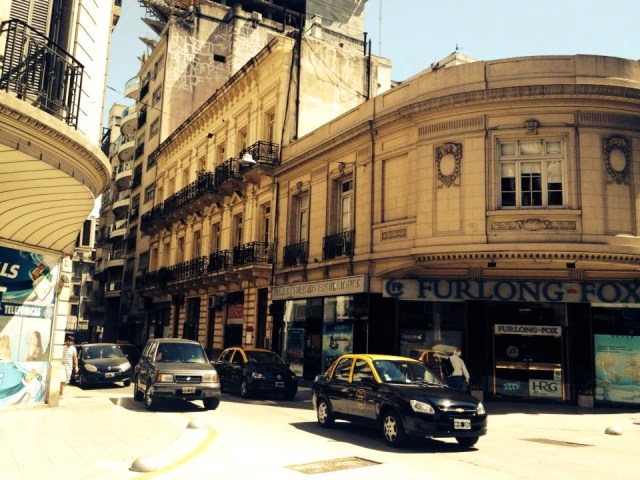 Not to say this city is as flawless as pictured in your favourite jet-set travel glossy. Buenos Aires, just like any other city in the world, has its share of social issues. A 26,000 person shanty town ("Villa 31") exists right beside Retiro, one of the richest neighbourhoods in the city; gentrification (and subsequently the displacement it causes) is noticeable in many up and coming areas; and for the first time in my travels, I was warned by concerned locals on more than one occasion to be careful of my belongings (I should have listened, but that story to come later).
Regardless of its issues (including a bad economy and an epidemic of counterfeit currency), travellers, nomads and expats are still drawn to the culture of Buenos Aires. With a 25% increase in Desi Globetrotters flocking to Argentina in 2012, Buenos Aires now also has the attention of Indian travellers looking for bold, new experiences.
Get Inspired by the Barrios
After a week in Buenos Aires, I can see why people from around the world come here. It's a place where artists, designers, dreamers, digital nomads and those who are lost come to get inspired, soul search and discover. My recommendation? Skip the hotel and rent an apartment for a month. Spend your time reading, writing…and…just being.  This city is less about sights (not many to see) and much more about exploring the colourful barrios , each with different characteristics. My favourite barrios include Palermo Soho, Recoleta, Retiro and San Telmo. Enjoy living life like a Porteno – people of the port as residents of Buenos Aires are called.

Just Being: I'm seated on a patio chair on a sidewalk outside of Persicco, a corner cafe in the barrio of Palermo Soho, open since 1931. It's 3:52pm on a late November afternoon and I'm cooling down with a Ferrero Rocher milkshake after going on a leisurely bike ride. The aroma of blossoms and a slight breeze is in the air. Right behind me is a busker – a guitarist singing English love ballads. Across the street is Prometeo, a fuschia rimmed independent bookshop beside a row of pastel coloured boutiques. A mix of Portenos, expats and tourists begin filling the patios and shops dotting the tree-lined boulevard. And here I am, watching the world go by.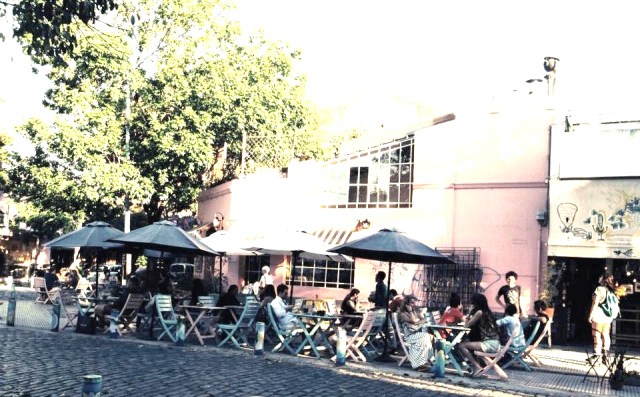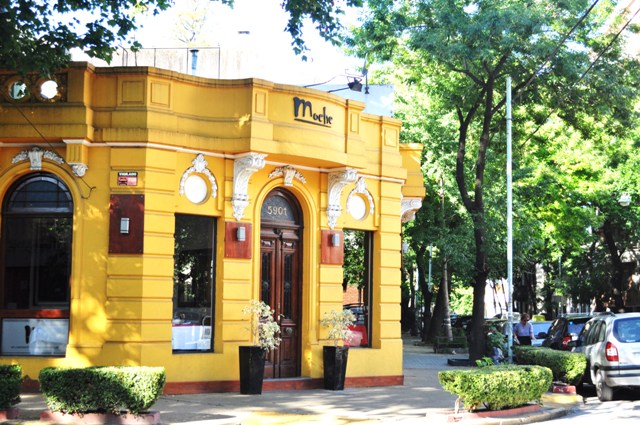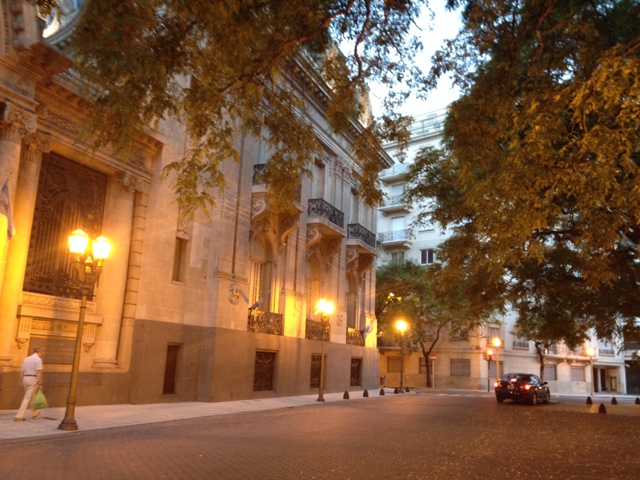 Where In-the-Know Travellers Go To Live
Buenos Aires is a very liveable, picturesque city – wide boulevards and cobblestone streets; European-styled architecture, piazzas and elaborate sculptures; plenty of green spaces and parks to walk and bike; a city full of dog lovers and dog walkers (a popular profession here) and an abundance of gyms on every corner, a nod towards the active lifestyle of Portenos. Coupled with the charm of a Parisian-style café culture, an active cultural life and an electric nightlife, no wonder this city has a vibrant expat community.

Picture perfect: Seated on a green bench in Plaza San Martin, a park in the barrio of Retiro, I spend my afternoon reading a novel. It's early December and 30 degrees, but feels more like 40. I can feel the heat in the air with a faint fragrance from the fallen yellow petals. A wide tree-lined pathway with square-shaped cobblestones runs through the middle of the plaza. The trees remind me of Mother Nature's version of sculptural art –tree branches like twisty veins shooting out and up into the sky. The park is filled with people, either walking by or sitting on benches. The traffic noise is faint, drowned out by the squealing birds. And here I am, watching the world go by.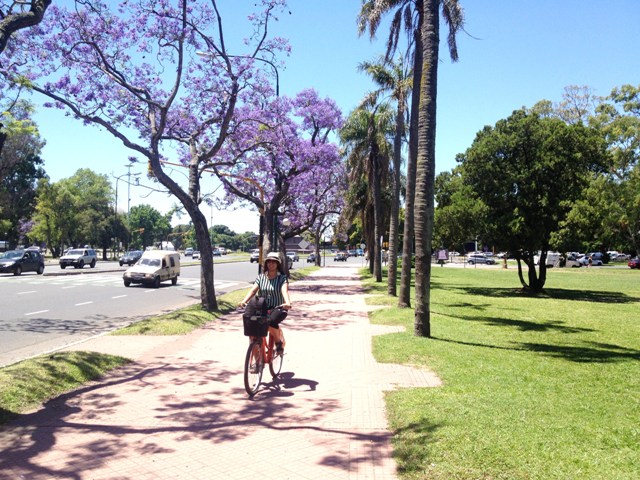 Unique Gastronomy
Cafe Culture
It's called Paris of the South for a reason. With a cafe at every street corner, the Argentinean capital rivals its French counterpart when it comes to cafe culture – order a café con leche and stay awhile. Cafes here are made for lingering rather than racing.

It's raining today in Buenos Aires. I'm seated by a window in Societe de Caffe in Recoleta. I take a sip of my frothy Cappuccino Italiano and gaze around. There are less than a dozen people in the cafe. After flipping through Elle Argentina, I take a break and start writing in my journal instead. Tracey Chapman tunes are playing. And here I am, watching the world go by.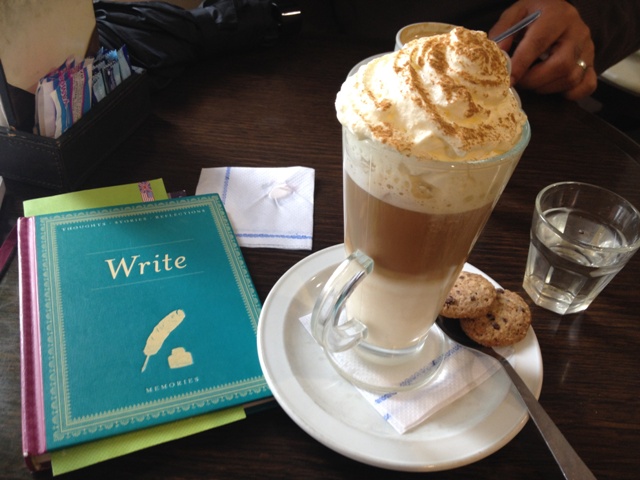 Pizzerias
I was expecting the cafe scene to be illustrious. But pizzerias? That surprised me as I wasn't aware of the heavy Italian influence in Buenos Aires. These gourmet-styled pizzas were so good it rivalled the ones I had in Italy.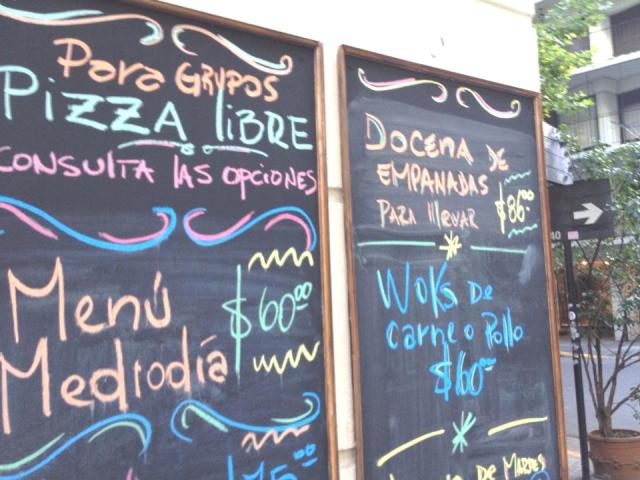 Parillas
The cafes may remind you of Paris and the pizzerias of Italy – but parillas? Those are quintessentially South American, baby. Parillas are a style of grill used in cooking asado (barbeque). Chorizos, steaks and ribs cooked to perfection. I am a carnivore, after all. But vegans and vegetarians – do not worry. There are plenty of vegetarian dishes to order from the menu and it looks like the vegan scene is up and coming in Buenos Aires.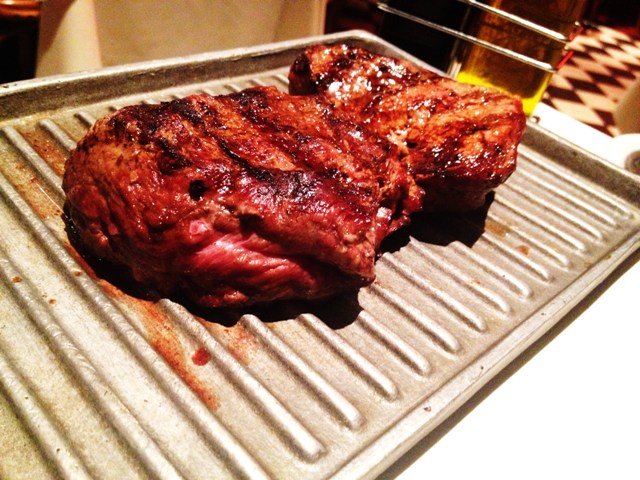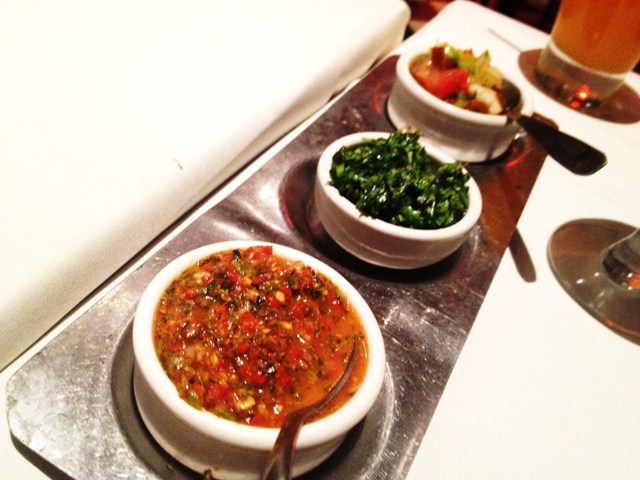 Arts, Culture & Design Hub of South America
Centre for Literary Arts, Contemporary Arts, Performing Arts
With the highest concentration of theatres in the world, no wonder Buenos Aires is THE cultural destination in South America. Not only that, Buenos Aires is the land of writers, readers, publishers and booksellers with independent book stores thriving throughout the city, open late until the evenings.  You know Buenos Aires is a city of book nerds when in 2011, Unesco declares it the "International Book Capital" of the world. Portenos are also heavily influenced by contemporary design – noticeable in their fashion, home decor and urban planning aesthetic. Contemporary art galleries – big and small, independent and nationally run, are easily accessible and available. Indie bars turned into contemporary gallery spaces and warehouses turned into art studios are commonplace in this city of art lovers and especially found in the hip barrio of Palermo Soho.
Start off with my recommendations below:
Museo Nacional de Bellas Artes 
MACBA – Museo de Arte Contemporaneo de Buenos Aires 
MALBA – Museo de Arte Latinoamericano de Buenos Aires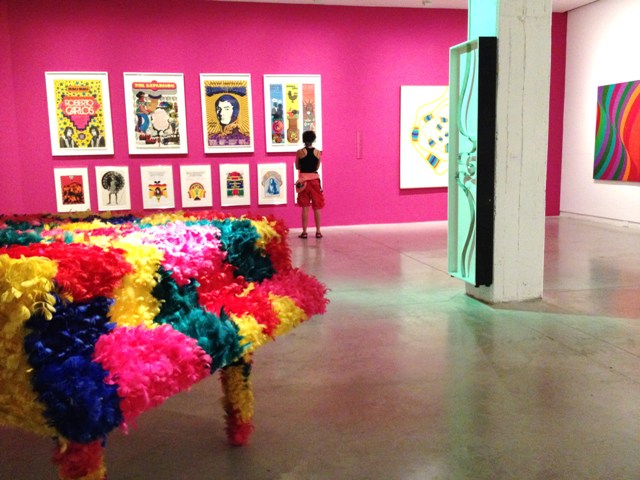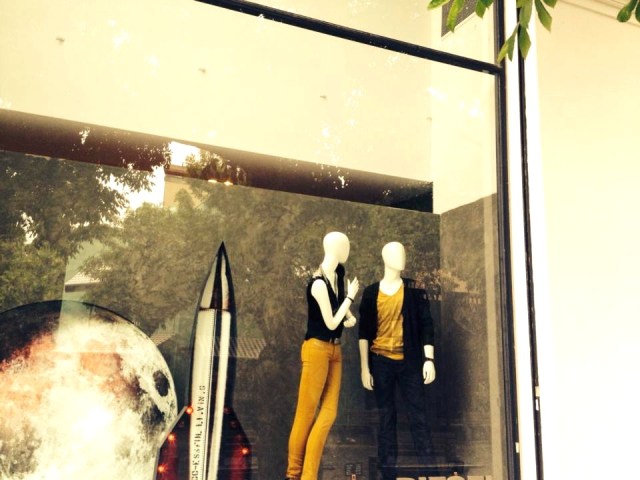 Difficult to Understand at First
As much as Buenos Aires excited me, it also confused me as well. It's the one city where I wish I had a local friend to help me get underneath the skin of the city. The danger of not really understanding the place you are visiting is you're left with an impression it's just another big metropolis and that wasn't good enough for me. If you ever feel like that in a city, I encourage you to book a day tour. I took a street art tour to get a local perspective on Buenos Aires graffiti culture and it was super cool and helpful in understanding the city more.
Here are a few things I got used to eventually: 
Buenos Aires Time: As in Europe, shops open up here much later in the day, typically after Noon. But what was confusing was there was no pattern to the opening and closing times for shops – when we thought places would be open, they were shuttered.
Locals love their 80s and 90s rock music: In taxis and in cafes get used to listening to Alanis Morisette, Bon Jovi and Guns N Roses while sipping on your cappuccino italiano.
Language of Hands: Although American music is played in restaurants, grocery stores and cafes, don't expect English to be the common language. Unless you can speak Spanish fluently, get used to using a lot of hand signals and pointing to menus.
Dinner Time: 8:30PM is EARLY here and restaurants will be empty. Seriously. Typical dinner time in Buenos Aires – past 10pm and in some cases even midnight.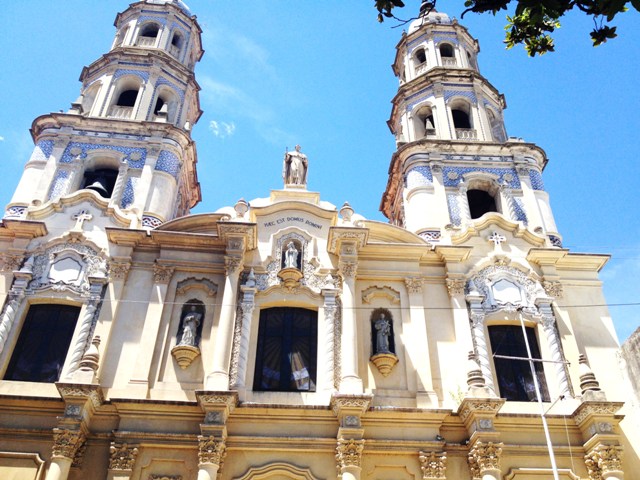 Nightlife
The one good thing of a European lifestyle in South America? Buenos Aires nightlife. Portenos start with a very late dinner going until midnight, followed by drinks at the bars before hitting the tango bars at 3am and coming home post 6am. A typical night out in Buenos Aires. Me? I couldn't keep up – my latest night lasted only until 2am!
Recommendations for bars: Go to Plaza Serrano for late night drinks until the wee morning hours. With multiple bars and outdoor patios around an oval plaza, it's the bohemian heart of Palermo Soho. Plaza Serrano is dead during the day, but at night it's alive with people of all ages drinking, singing, dancing and celebrating. Not to be missed.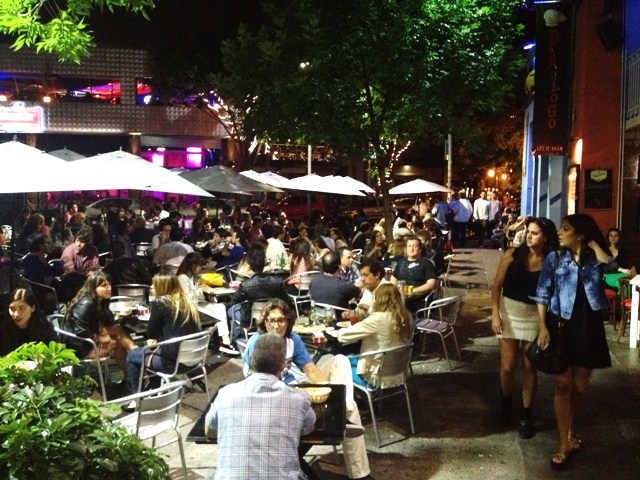 Topped with incredible food, a thriving cultural scene, green landscapes and passionate tango, Buenos Aires is worth the visit!