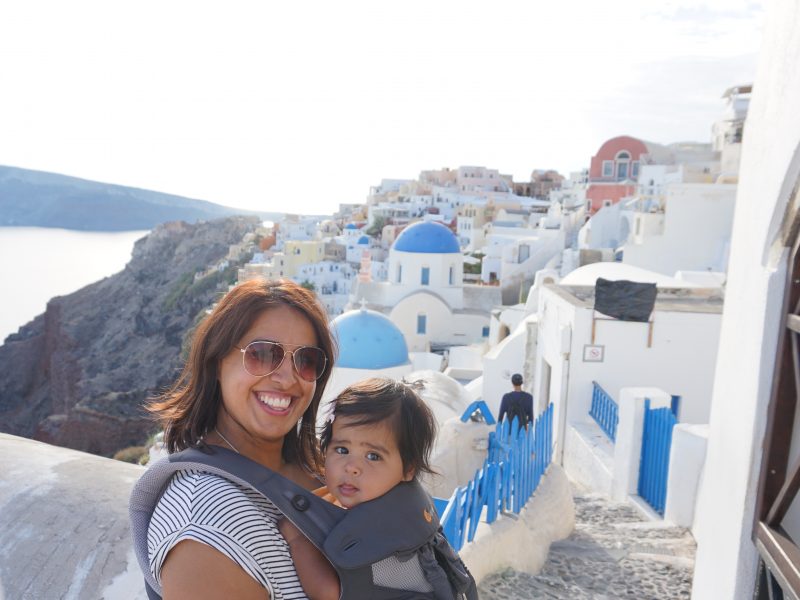 "You're brave."
I hear this all too often from parents after hearing we've travelled overseas to Greece and Spain with our daughter when she was 8 months old, to Maui when she was 16 months and most recently, to Taiwan, Thailand and Hong Kong when she was 22 months.
Yet, travelling with kids is not something reserved for only a select few who are considered 'brave'. I wish for it to be attainable and encouraged for every parent.
I get it. Travel is a privilege. Travel is expensive. Travel logistics become stressful. The thought of travelling to foreign countries with your baby or toddler makes you nervous – you think of the crying, the jetlag and meltdowns, the stress, the long hours on a plane and the potential to get sick abroad, not to mention all the diapers and snacks to pack, and perhaps having the misfortune of becoming lost without help or pick-pocketed in a far off country where you don't speak the language.
You've read the countless articles on parenting blogs that scream "Travelling with a kid is not vacation, it's travel!"
True.
"Toddlerhood – the WORST age to travel."
Also true.
But you know what else is true? I'd go again and again.
And if you still dream of exploring countries abroad during this phase right now, with young kids and if you want to break free from the fear and inhibition and finally feel the freedom to go, I'm here to tell you, you can. I'm here to tell you it's worth it.
And not only will you survive, but thrive and have adventurous tales to remember with your family. I know I do. The rough and tough moments, become pretty hilarious. Later, of course.
BREAKING FREE FROM BEING BOXED IN
Freedom. You gain so much from having a child, yet there is also a sense of loss. A loss of freedom to go where you want, when you want.
For travel-obsessed parents who are craving to burst out of the comfortable confines of a little, square box labeled [expectations], taking the plunge and flying halfway across the world with kids helps to reclaim some of that freedom back.
Who said parents should only travel to Disneyland with kids or only go see and do kiddie things when travelling? It's all about balance. Go see that flamenco show or book a street art tour for the family, then head to the park. Go see that music festival (if underage kids are allowed), then head to the splash park. Go to that football game in Barcelona, and then to the swings later. Visit temples, art museums, night markets and so much more than only aquariums and science museums geared towards kids.
Everyone tells me "I'm brave." Everyone told me to "travel before you have kids."
Which I did.
But why stop now? Why confine myself to a small box?
You see, my passion for travel is stronger than the challenges I face as a travelling parent chasing after a strong-willed, spirited, freedom-seeking, bolting, two-year-old wild child.
Some travel days are tough. Some travel days make me question why we're half-way across the world. Yet, I'd endure the hardships again and again.
It's the moments in between the chaos that become memories that last a lifetime.
Those times when I make it up to the Acropolis in Athens with my family; those times exploring little alleys in Barcelona or visiting the white-washed villages in Santorini; those times floating through mazes of canals while eating fresh coconut ice cream on a boat or stumbling upon a Buddhist ceremony in Bangkok.
Travel is my lifestyle of choice. Travel isn't just a phase best left for my free-spirited twenties. Nor is it a phase only before I have kids or when I retire. I will continue to travel every year until the day I die, no matter which phase of life I'm in.
For me, experiences matter the most. And when those experiences happen outside of our daily life, they are the most vivid, colourful and memorable. Besides, with both parents working and our daughter in daycare, vacations become precious bonding time.
5 WAYS TO GAIN COURAGE TO TRAVEL THE WORLD WITH KIDS
If you are willing to endure the rough spots of travelling with a child to come across the other side with adventurous stories that will last a lifetime, here are a few ways to help you gain courage to travel overseas with your little ones:
1) Build Excitement
Turn fear and inhibition into exhilaration and use it to your advantage. Harness that energy to build excitement. Think of all the learning opportunities for your child. In Taipei, our daughter greeted hotel workers with "Ni Hao" every morning and in Thailand learned how to say "Sawasdee-ka." In Phuket, we visited a sanctuary for rescued elephants. International travel is the best form of experiential learning. And they will have so many photos to remind them later on to not be scared of the world.
2) Talk to other parents who have travelled – prepare
Talk to other parents who have travelled, not the ones who haven't, to gain true insight. The parents who haven't travelled may add unnecessary fear and thoughts in your head. Ask the parents who have travelled to be honest. Have an emergency plan. Go in expecting your kids may very well get sick on the plane and not sleep a wink. Better to be prepared (as can be), than going in with rose-coloured glasses.
3) Be Realistic
The number one advice I was given was to not be too ambitious once we get to our destination, to travel slow and to give ourselves a minimum of 4 days for our child to get through jetlag and back to a routine of sleeping through the night. Until then, expect night wake ups and 3am storytime.
4) Make a Commitment
My passion for exploring the world far exceeds the hardships I experience as a travelling parent. Make a commitment to travelling the world, regardless of your fear and nervousness. Work through it and after your first trip, you will learn what works best for you and your family.
Take the plunge and commit. Have a good friend or coach who will be your cheerleader, to give you the confidence to go and to keep you accountable. You won't be sorry.
5) Research a Good Travel Credit Card to Offset Costs
One of the biggest fears holding parents back is the cost of international travel. Travelling with children is expensive. Although international travel has become cheaper now than in the history of aviation, for a family of four it can be quite expensive. Anytime you can gain travel points to offset the cost of your children's flights or accommodations, is great. Do your research and build points as quickly as you can, but of course, please be responsible with credit cards– don't get yourself in debt! There are plenty of travel hacks on the internet, but it does require organization.
With our last trip to Asia, our daughter was under two, so technically she could still fly for a minimal fee. However, for a 12 hour flight to Taipei, there was no way I was going to have a squirmy 22 month old on my lap the whole time. We've been building points over the years and this was the perfect time for us to use them to purchase a seat for our daughter for the long-haul portion of our trip.
MOMENTS IN BETWEEN
In the end, remember this: no one ever regrets travelling. Sure, kids make it a bit tougher. And not all moments will be pretty, but the moments in between are what matter.
Make the commitment, plan and prepare as much as you can ahead of time, but leave room to be flexible. Turn your fear into excitement and book that family adventure!
You got this! You are the brave one now.