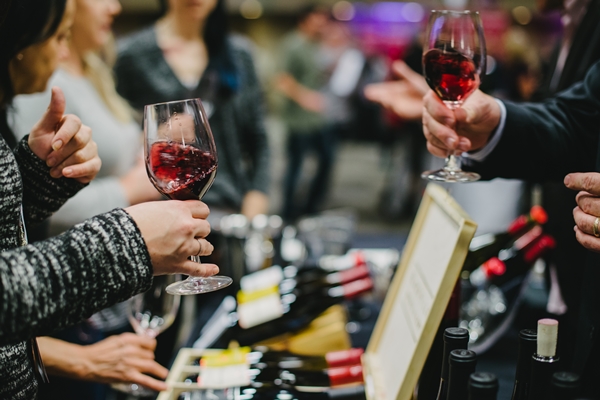 Naturally, good food and wine pair well with good friends and a good time. Imagine 15,000 people descending upon Whistler over 11 days every November to indulge, escape, celebrate and connect over 125 gourmet food and drink events – from seminars to luncheons, grand tastings to themed parties, an enticing affair for all types of taste buds. Finishing their 20th year this past weekend with a smashing lineup, Cornucopia is the ski resort's signature bash of the year, a kick-off to Whistler's winter season. If you haven't been before – add it to your social calendar for next year.
For the 30-something crowd past their clubbing prime or for those feeling shaky on the slopes, Whistler has more to offer than only skiing and stag parties. Flagship events like Cornucopia breathe new life into this resort destination, giving a renewed sense of purpose to those battling Whistler-fatigue – it's reason to come back and visit over and over again. With events taking place inside the Whistler Conference Centre and luncheons inside private homes, dinners at hotels and tastings in art galleries, this is a unique food and wine festival embracing new ideas every year.
Cornucopia focuses on local talent with a global outlook. For this globetrotter, the Cornucopia Night Market – Taste of the World was a good place to start. This sold-out street-market style event featured sixteen food vendors representing thirteen mouth-watering world cuisines – Thai, Spanish, Lebanese, Italian, Netherlands, German, Filipino, Taiwanese, Brazilian, Korean, Mexican, Japanese, and Australian. Vancouver favourites like JamJar, Bob Likes Thai Food, and Max's had their signature tasty spreads along with Whistler's Harajuku Izakaya, Basalt and The Pie Company. The most fun table goes to Vancouver's Rio Brazilian Steakhouse with their outgoing, friendly staff, gluten-free cheese bread and rounds of rum shots. The table with the most ingenuity goes to Carmen Cocina Espanola, the lone star from Toronto offering ceviche prepared in three different global styles – Peruvian, Mexican and Canadian. Rounding out the event were wineries and breweries flanking each street-style vendor. Note to self for next year – don't eat dinner beforehand, there's plenty to nibble on.
If I could travel around the world eating chocolate, I would be in heaven. I was close to nirvana at Cornucopia's Wine & Chocolate – Friends with Benefits seminar. Mark Pennington of Cacao Barry and sommelier Rachelle Goudreau guided us through ten types of wines and ten types of chocolate, allowing us to be experimental and adventurous with our pairings. If you love dark chocolate, try Terrazas de Los Andes Reserva Malbec from Argentina paired with a dark chocolate from Tanzania. If you like a lighter chocolate, pair Georges Duboeuf Beaujolais from Burgundy with a milk chocolate from Ghana. Cornucopia had me travelling around the world one chocolate – and glass – at a time. My dream has been achieved.
With so many events during Cornucopia – for next year, it may be wise to pick and choose which events suit your taste buds best. Some tickets are inclusive of all food and drink (the way to go for me), while others such as the last event I attended – Poured Grand Tasting, a signature tasting event featuring spirits, beer and global wines – include a certain amount of tokens with additional ones that can be purchased on site. With both food and drink to choose, including to-die-for pressed sushi from Miku– you bet I ran out of my tokens fast.
Cornucopia has become more than a food and drink festival – it's an experiential conduit bringing people and cultures together over a culinary experience. For me, it was a way to spend time with my girlfriend as we make our way through two transitional life paths (I'm a new mom and she's about to get married). Throughout the weekend, we met new people, each on their own journey. For the group of young-at-heart ladies in their 50s on a ritual road trip together, Cornucopia was a way to celebrate their friendships. For the young South African guy sitting beside us who just moved across the globe to Vancouver for his fiancé, Cornucopia was a way to immerse himself into local culture, one morsel and drink at a time. Similar to me, for the young, new mom on her first girls weekend away from the baby, Cornucopia was a way to connect with her girlfriends. For the gourmands inspired by local and global food and drink, Cornucopia was a way to share their passion with like-minded people.
The 15,000 festival attendees may have all been on different journeys, but what they all have in common are new memories thanks to Cornucopia. Cheers to another year of bringing people and cultures together.
Note: As a guest of Tourism Whistler, I was provided event tickets and accommodations. Views are my own.
Photo Credit: Cornucopia/Darby Magill