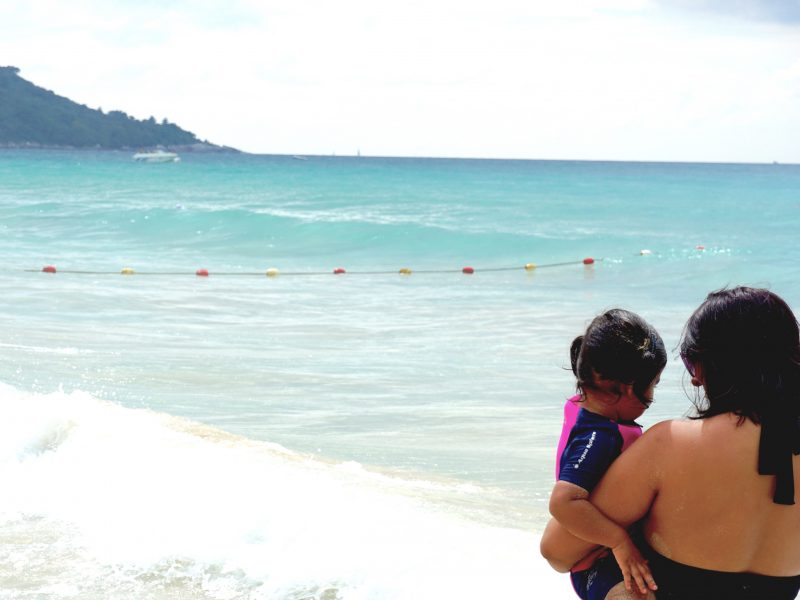 Thailand holds a special place in my heart. It's a country where my husband and I spent our honeymoon 8 years ago. It was our first international trip together as a couple and the first time my husband actually enjoyed travelling abroad. It was a transformational experience watching my husband discover the magic of travel.
Now that we've become parents to a spirited, curious toddler, it's important for me pass on my love of travel to her and to re-discover travel through her eyes. We took the plunge and booked a trip to Thailand. We always knew we wanted to visit again – this time we had the opportunity to share the experience with our toddler.
After spending 6 nights in Bangkok navigating through traffic jams, visiting temples, exploring markets and eating fresh coconut ice cream at a floating market, we flew to the beaches of Phuket for a week.
Finding a Hotel
While researching resorts online, we came across a few, but kept coming back to only one resort: Katathani Phuket Beach Resort, the same resort we stayed at 8 years ago on our honeymoon. We had such a good experience, we wanted to stay again.
What we loved about the resort 8 years ago – the beach, the rooms, the large property – still rings true today, with timely new family-friendly additions and upgrades, perfect for this time in our life as parents.
New Family-Friendly Features
When we arrived, what we noticed right away were some of the new amenities and the demographic change. There seemed to be many more families on the resort now than what we remembered from back in 2010. Over the past few years, the Katathani has been gradually adding more family-friendly features into the hotel and creating different zones to serve different needs.
From the renovated Grande Suite with separate living room, to the Sports and Activities 'Joy Zone' with arcade games, cinema, outdoor bowling and air hockey to the Chang Noi Kids Club and the Aqua Park (a hit for our family), the Katathani has added all the right elements in creating a happy vacation space for families.
Here are 8 reasons why the Katathani Phuket Beach Resort is perfect for families travelling with a toddler:
1) Car seat can be arranged by hotel staff
Although the resort is over an hour drive from the airport, your little one can snooze in the comfort and safety of a car seat. The Katathani staff helped us arrange airport transfers and a car seat with ease.
2) Grand Suite in the Thani Wing
Although the Bhuri Wing is closest to the children's play area, our favourite (for both honeymoon and staying as a family) is the Thani Wing which has rooms with balconies that face Kata Noi beach and the Andaman Sea. Our daughter still naps in the afternoon so while she's napping it's relaxing to go out on the balcony and watch the beach waves crash on the shore. After all, we are also on vacation.
The Grand Suite is spacious and best of all has a wooden partition that closes for privacy to separate the bedroom from the living room where our daughter's cot was located. The Grand Suite in the Thani Wing is also close to the Chom Talay Restaurant – a short walk to get to the breakfast buffet.
3) Aqua Zone & Chang Noi Kids Club
As a parent, choosing a resort with a good kids area is essential. The new Chang Noi kids club is really good indoor play space with a ball pit, trampoline, mini-cars, and plenty of toys to keep your toddler entertained. Once you've cooled off inside, head right outside and into the Aqua Zone water park – it's even fun for the adults!
4) Location: Beachfront property with large green spaces
What I love about the Katathani is that it's beachfront property with swimming pools that face the ocean with no traffic or road in front of the beach as some resorts have. It's a well-designed property with a great layout for kids. Plus, because the Katathani is more secluded, the public Kata Noi beach feels more like a private beach for resort guests.
Our daughter loves to explore, walk, run and be on the move. The Katathani grounds are spacious, green spaces with pathways for our daughter to safely explore.
5) Seaside Restaurant: Wood-Fired Pizza
This was a tasty lunch spot after spending the morning at the pools and beach; at Seaside Restaurant you can order pizzas and pastas to stay or to go. With our picky daughter, the pizza was perfect to ensure she was nourished before her afternoon nap.
6) Convenience stores right across from the hotel
For snacks or bottled water, the hotel is located across from a Family Mart and 7-Eleven for guests. Kata town is located less than a 10 minute drive away, but having a few choices nearby the resort to buy a few things was convenient.
7) Amenities for Children
Being in a tropical country, bug bites are inevitable. If you're worried about your little one getting bitten by mosquitos in the room like we were, you can call housekeeping to bring mosquito plug-in repellents. I wasn't sure what would be available so on a whim I called and we had a housekeeper bring the repellent within 20 minutes. Thank you for the fast service Katathani!
8) Nurse / Doctor
Although luckily we didn't have to use this service, part of why I wanted to book Katathani again was also the security of knowing there's a health clinic on-site with a nurse available from 8am-5pm daily and there's a doctor available on-call every time.
It can be scary when a child gets sick while travelling in a foreign country. And being in daycare, our child gets sick monthly. Having a health clinic on-site gave me some relief and one less thing to worry about in case our daughter got a fever or any other illness.
Some things change, and some things truly don't.
Visiting the Katathani Phuket Resort a second time was nostalgic and special, with my husband and I remembering all the little moments from our honeymoon, while creating new memories now with our daughter.
With new family-friendly features, the Katathani Phuket Beach Resort is a good holiday waiting to happen.
Photos: Desi Globetrotter