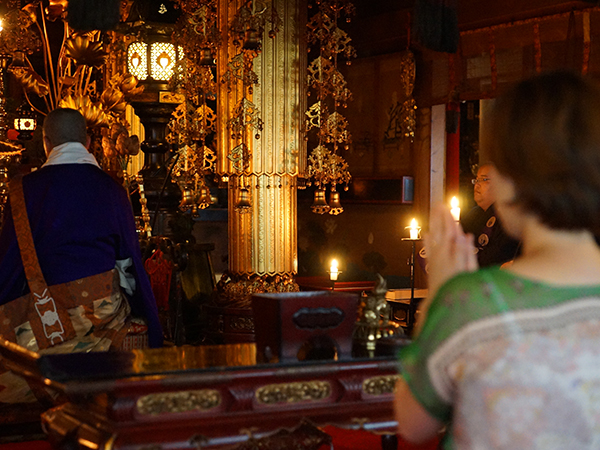 Read Japan Travel Part One here: 8 Mini Guides for Experiencing Tokyo for the Very First Time.
A trip to Japan is incomplete without experiencing an overnight stay in a Buddhist temple in the clouds, praying with monks at 6:00am, bathing naked in a communal onsen, walking through a cemetery with a spaceship tomb and watching Japanese wrestling in a temple to boot.
Simply gold.
************************************************************************
A chill sneaks up my jacket and I let out a shiver. It's cold. It's wet. It's quiet. Eerie, even. A thick, misty fog hovers ominously over the forest of cedar trees surrounding the mountain.
We're 800 meters above sea level, up on Mount Koya – one of the holiest mountain areas in Japan and the world epicenter of the Shingon sect of Japanese Buddhism. Designated as a Unesco World Heritage Site, Mount Koya–or Koyasan as it is often respectfully called–is located in the Wakayama prefecture, sitting between eight mountain peaks two hours south of Osaka.
The first temple was founded by the Buddhist monk Kobo Daishi (also known as Kukai) in the early 9th century. Over the years, the temple compound has grown to 120 monasteries surrounding the head temple of Kongobuji with about 50 temples designated to offer overnight traditional lodging to visitors called shukubo similar to ryokans.
Getting There
Two trains, a cable car and a bus – that's what it took to get to Mt. Koyasan from Osaka. It sounds complicated, but the transfers are synchronized making the journey easy, smooth and timely. Sometimes the act of travelling to a place is just as satisfying as arriving at the destination. My favourite part of travel is taking out my headphones, listening to music and getting lost in thought looking out the window of planes, trains, and automobiles. This time, I'm looking out at the Japanese countryside, dotted with blossoming sakura (cherry blossom) trees, wide open green spaces and dark wood homes spaced out far away from each other–a welcomed reprieve from the buzz–and density–of city life.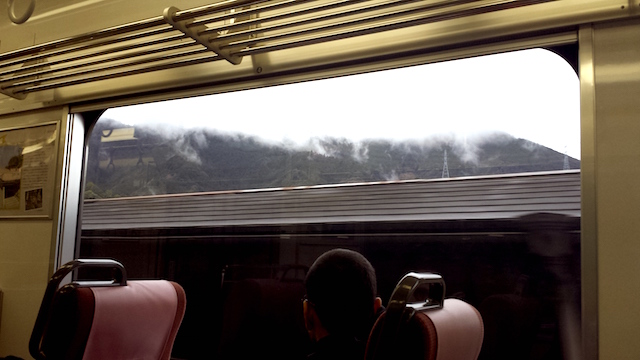 Starting at Osaka's Namba Station, we buy the "Koyasan World Heritage Ticket", available at multiple train stations across Osaka. There are two options for this ticket – a regular version (2 trains) and express version (1 train). This World Heritage Ticket saves us 15% over buying individual train tickets for each travel segment. The ticket includes round trip train, cable car and an all-day bus pass. We didn't know anything about this ticket, but when we started talking to the staff at the train station about Koyasan, they were very helpful and knew exactly what to recommend.
Regular Route: From Osaka's Namba Station, take Nankai Koya Line to Hashimoto Station. Transfer trains heading to Gokurakubashi Station. At Gokurakubashi take the cable car up to Koyasan station before hopping a bus to your temple lodging. Travel Time: 2 hours.
Express Route: From Osaka's Namba Station, take the Nankai Limited Express straight to Gokurukubashi Station, skipping Hashimoto station before taking the cable car to Koyasan. Travel Time: 1 hr 40.
Hopping off the cable car at the top of the mountain, we instantly feel the chill of the mountain air and rain pattering on the ground. Luckily we come prepared with umbrellas. A bus awaits to take us to our temple lodging.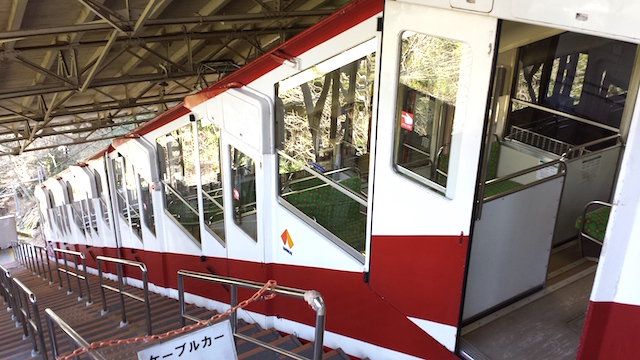 Making our way down a very quiet road into Koya, passing dark wood monasteries set against a backdrop of dense forest, we feel the solitude of being up in the mountains. No wonder this place is a pilgrimage for monks.
Staying There
The bus stops. We're dropped off in the middle of nowhere it seems–surrounded by trees, an empty road and a gloomy sky with low hanging misty fog.
We walk half a block back to find our lodging, our shukubo—Koyasan Onsen Fukuchi-in.
We pass a geometrically designed garden of stones and shrubs and creepy gargoyle statues on our way to the front door. The darkened sky and silent surroundings add to the mystical and eerie ambiance.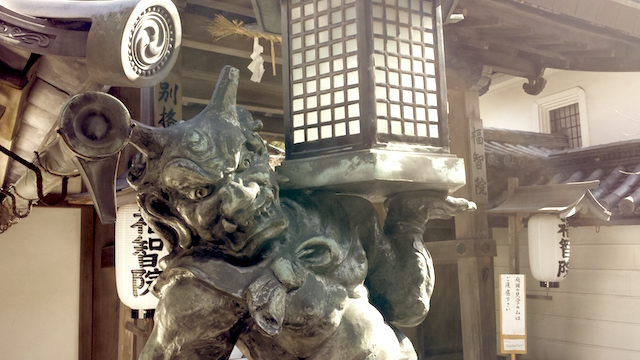 Labelled as the "millennium monastery above the clouds", Fukuchi-in offers modern comforts and conveniences such as a front desk check-in, televisions in the rooms, a coffee shop, an onsen (hot springs) and computers–without sacrificing its historical feel. With modern comforts, comes modern pricing though at $200 per night. Consider it a splurge worth the experience.
Fukuchi-in was founded by the priest Kakuin 800 years ago, a temple dedicated to Aisen-myooh, a Buddha for fortune and virtue. Fukuchi-in also has an antique gallery where items left by the historic feudal lord and the historic treasures from the Nara period are stored.
We take off our shoes outside and the monk ushers us indoors. It's freezing inside – there seems to be no heat, atleast not in the main part of the building. The wooden floors creak noisily underneath us as the monk gives us a tour through the dimly lit monastery, adding to the surreal experience. Talking in clear English, he shows us the main lobby and gallery with its 800-year-old historic collection, the banquet room and coffee shop. He tells us the rules of the onsen and when the morning prayer service takes place. There's even a Japanese calligraphy class we can sign up for if we are interested. Outdoors there are three beautifully designed gardens, some made of stones and moss, others with ponds, meandering pathways and lanterns, to encourage guests to sit and reflect in its peaceful setting.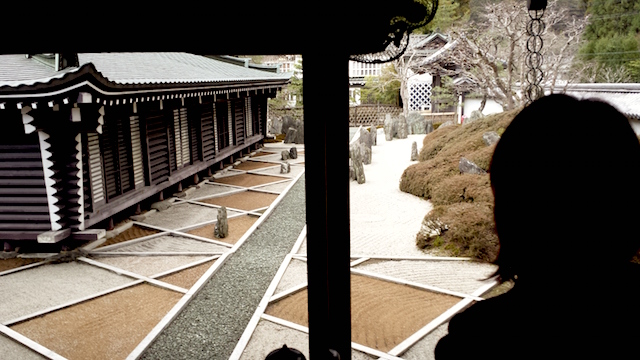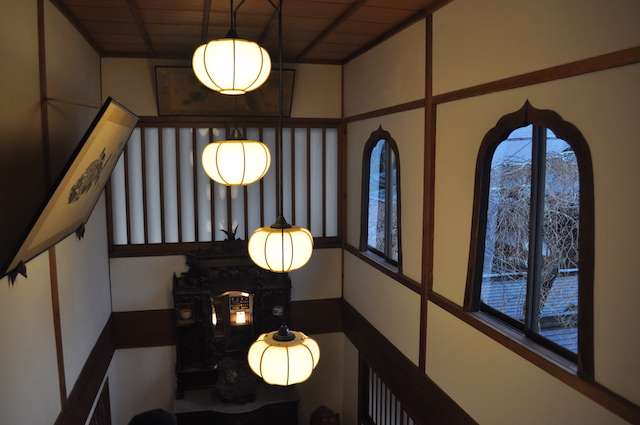 We walk up the creaky stairs to our room. Opening the sliding doors, we discover a large space covered in tatami mats. Slippers and yukatas (robes) are made available to us in a tall wardrobe dresser in one corner along with a long mirror and a night table. In the middle of the room is a heavy, square coffee table. On the other side of the room is a television set and a sliding closet door with neatly folded futon mattresses and pillows for sleeping. No beds here. Thankfully, there is heat available in our room. We crank it up high.

Relaxing in our quiet room, we let the day sink in.
We're on top of a mountain somewhere in Japan sitting in an 800-year-old temple. What??
Not used to sitting still after two weeks of exploring Tokyo, Kyoto and Osaka we turn on the television like two addicts in need of a digital detox. There's no Wi-Fi available in the rooms, only a computer in the business centre so television it is. What came next surprised us.
Turning our romanticized version of a remote Buddhist temple on its head, we turn on the television to find none other than – Japanese.Pro.Wrestling.
No shows on Buddhist teachings or 10 Ways to Zen Out, but instead we get Japanese Pro Wrestling, a hybrid between WWE and Mexican Luche Libre with masks. I guess even monks need a dose of entertainment once in a while.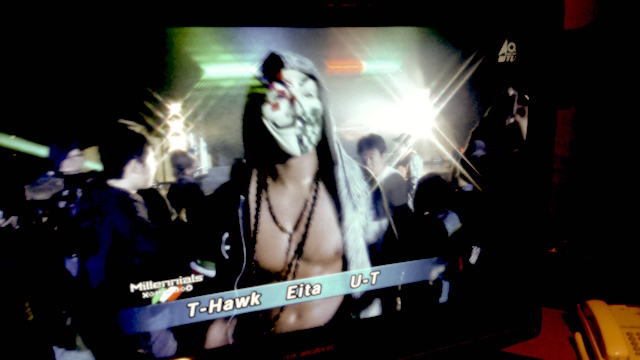 I hadn't experienced a Japanese onsen yet on my journey, so I head downstairs to the communal bath prior to dinner. The natural hot springs of Koyasan are available only at this shukubo and strictly for staying guests. The shared bathrooms by our room only have toilets and sinks, but no showers, so the onsen acts as a communal showering facility with separate areas for men and women. For the first timer, this could be a traumatic experience as no swimsuits are allowed in the onsen (it's seen as dirtying the water); however, towels can be used for modesty when walking or before entering the water. Luckily when I go, I'm the only one using the onsen so no shyness for me! Toiletries, soaps and shampoos are included so showering before getting into the onsen is a must. Clothes come off and I head into the hot springs to relax my aching, travel-abused muscles. No swimming, splashing or diving allowed – use the time to contemplate and relax. This helped with my restlessness. Feeling zenned out after experiencing the indoor and outdoor baths, I head back to my room for dinner.
All temple lodgings on Mount Koyasan offer shōjin ryori, purely vegetarian food meant for monks. As part of our stay in a shukubo, a meal for dinner and breakfast is included. A worker/Buddhist student carrying a mountain of multiple trays and dishes comes to our room, setting each dish in front of us, carefully explaining the contents.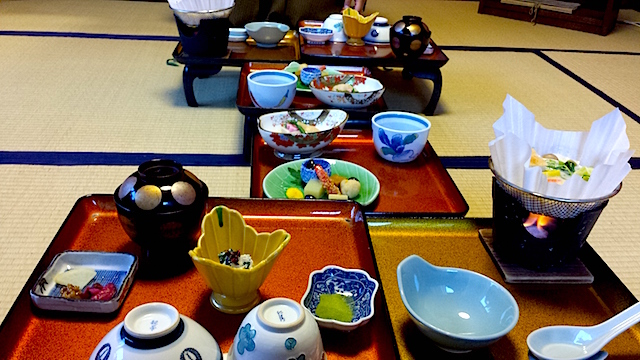 We put on our yukatas, fold our legs underneath and eat on the floor on the tatami mats, amazed at the feast in front of us. The meals are simple and clean – a mix of rice, porridge, tofu, miso soup, fruit and tea–a little more bland than we are used to, but the arrangement of the dishes is impressive.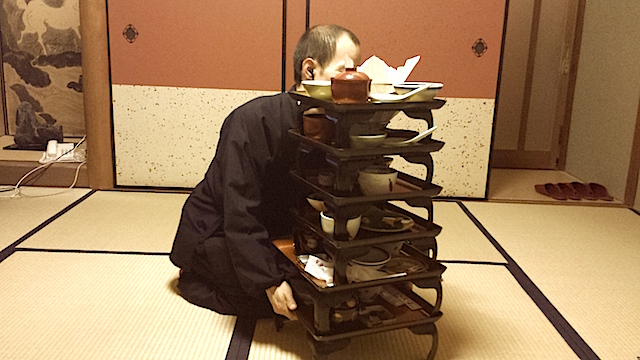 In the evening after dinner service, the worker comes back to clear the dishes and helps us put our futon mattresses together. As with most shukubo lodging connected to a temple, there is a curfew for guests. At Fukuchi-in, lights are out at 21:00 for good reason; the morning prayer service begins at 6:00am, an experience not to be missed.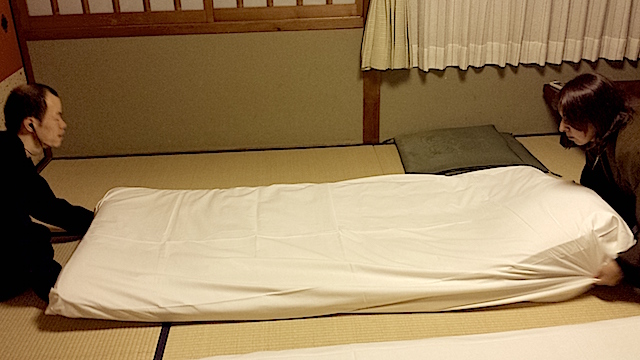 Waking up at 5:30am the next morning, tired and groggy, we get ready in time to go to the main prayer hall to join the monks for morning service. We're the first ones in the hall with a small group of tourists making their way in a few minutes past us. Some of us sit on benches, others on the floor facing the Buddha statue. The priest begins the morning Shingon Buddhism chant called sho-myo, its cadence and tone similar to Sanskrit-inspired prayers recited in Hindu and Sikh temples.
Although I have no understanding of what is being said and my body is feeling sleepy and tired, my mind is slowly beginning to feel calm–with yesterday's restlessness gently starting to fade.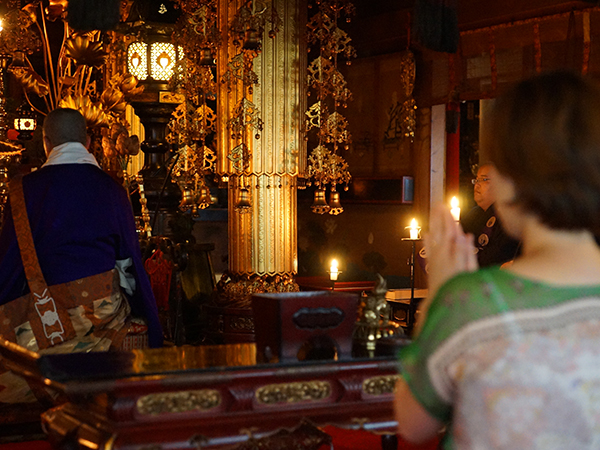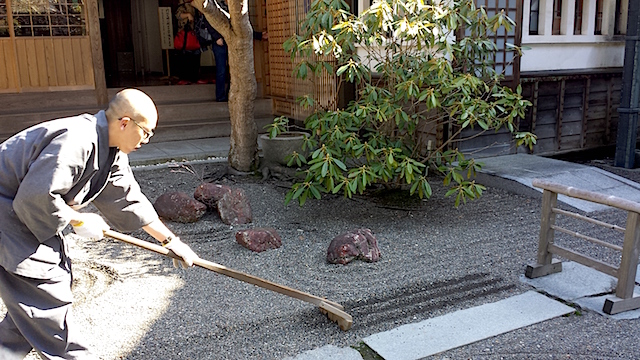 The morning prayers last about an hour, giving us a glimpse into the spiritual world of Buddhist monks. We head back upstairs to our room for a quiet breakfast before getting ready for check out. Our experience at Koyasan Fukuchi-in comes to an end.
What to See
Okunoin Cemetery
Today, the morning air is crisp and the sky blue. The rain and fog have vanished. The eerie and mystical ambiance I felt around me yesterday is gone, replaced with a relaxed stillness and peacefulness. Before travelling two hours back to Osaka, we have one more thing to see in Koyasan.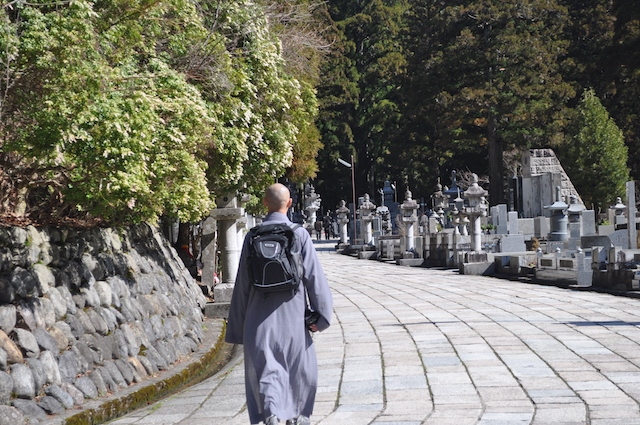 Okunoin Cemetery is the largest graveyard in Japan surrounding the mausoleum of Koyasan founder Kobo Daishi, popular with pilgrims visiting Koyasan. Not only is this cemetery known for its significant size and sacredness, but is also know for its unique, unusual and over the top tombstones – large spaceships, cups and strange monuments erected for former staff of astronautical and coffee companies and even a special monument built by a pesticide company to commemorate all of the insects they have terminated.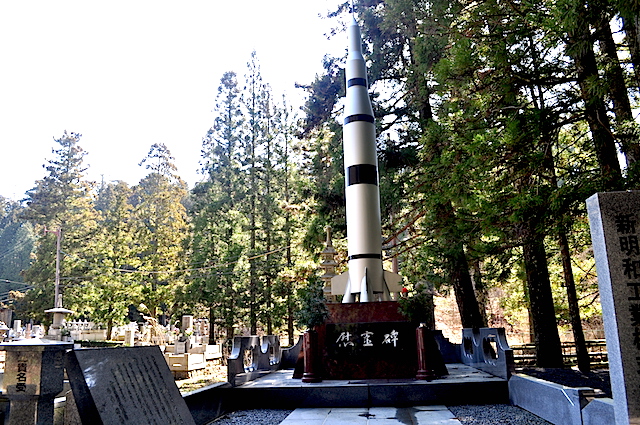 As nature plays a large part in Japanese culture, the monuments, tombstones and mausoleum are built in balance with the trees and earth surrounding it. Although we visit during the day, worshippers and tourists can also come at night when 1,000 lanterns are lit and according to belief, these lights have been burning constantly since Kobo Daishi's death more than 1,000 years ago.
Walking through a graveyard might sound spooky, but on our last day in Koyasan the walk during the day is calm and peaceful. We take in the fresh mountain air and go for a long walk on the pathways leading to the mausoleum to pay our respects.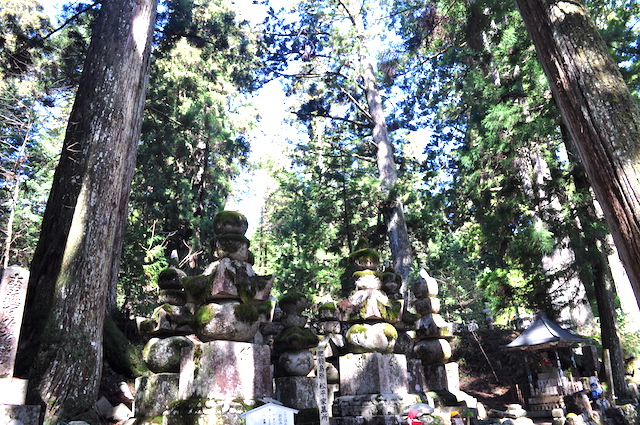 After about an hour, we start walking back to the bus stop signaling an end to our journey in Koyasan. We hop on the cable car, back down the 800 meter mountain, to start our journey back to city life.
One day. One day away from Osaka is all you need to feel the stillness of Koyasan.
Photo Credit:Desiglobetrotter.com; fukuchiin.com