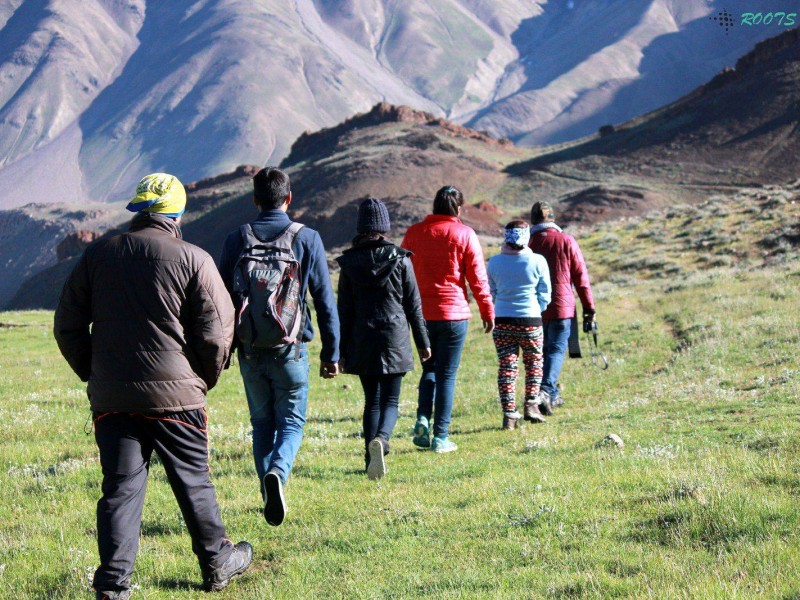 From rafting and camping in Rishikesh to road tours through Ladakh and Spiti and trekking through Bhutan, RootsVida, a New Delhi-based tour company offers meaningful and immersive experiences for the nomadic soul searching for adventure with a side of local flavour.
Intrigued by its intrepid offerings, Desi Globetrotter gets in touch for an interview to find out what they can offer travellers looking to explore India through the Roots lens.
In Conversation
Can you tell us about the founding team and how the idea of RootsVida came about?
We are two founding members: Anurag Chauhan and Shally Makin. It started with a hunger to flee away to pastures, looking for some meaningful life. Convincing friends to travel became a routine. However, no plans made their way to any destinations. We met, shared our love for travelling and came together to fill the gap in the industry for people who are looking to travel in a group and experience what we call 'Living Life'.
How would you describe the heart of RootsVida? Is it a tour company, a community, a meet up group or…?
In the early stages we were still trying to understand the industry and so never tried to restrict ourselves with any term. We were doing everything for the love of travelling. With time, we evolved and today we are not just a touring company, but a conglomerate that believes in meeting like-minded strangers over various meet ups, and travelling together. Creating a personal relationship with all our travelers, and guiding the tour on our own, we have created a 'Roots Family' that has now given a lifetime of friends to some.
What would you say are some of the attributes of a RootsVida traveller?
This article [on our website] perfectly describes all the attributes of a RootsVida Traveler:  17 Ways Roots Experiences Travel. 
You have mentioned that Rootsvida.com is an 'upcoming marketplace for unique travel organizers hosting budget group travels.' Can you explain further what that means?
Yes, that's another result of evolution. We have seen many people contributing to the travel sector in different ways like rural tourism, extreme adventure, motoring tours or simply a city tour with a difference. But all of these are still at very nascent stage. We share the same sense of passion with people who are doing this. Most of them are unaware about these tours and people are now looking for such offbeat experiences. So we came up with a thought to bring all these tours to one platform where travelers can look for various options. This will also bridge the gap of trust between the tour conductor and traveler.
Can you describe the process you go through to create your tour packages – what is typically included and what can travelers expect to be different when choosing your trips?
Our each tour is crafted differently in terms of – its culture, cuisine and history. Roots has never been stuck to one type of touring. We believe that every place has its own feel and vibes, and we mean to totally immerse into it. Offering an experience to be one of the locals, we try to make a difference by creating a traveler and not a tourist.
Especially, the accommodations chosen for every trip are carefully chosen that reflect the essence of that place, we eat local food and explore the hidden gems.
Our every trip is accompanied by the team members, who make sure that everyone on the tour is comfortable, and be one of them rather than a guide to them. One of the most unique factors is to know each of them closely and expand our vision to better understand life.
Most importantly, once the traveler is on board with us, he doesn't have to worry about anything. All of the logistics are arranged by us. After being in the sector for two years, we are sure of one thing – even if the traveler likes the place or not, it is for sure that he will take back some great memories and great friends.
The Great Indian Riding Festival is a new venture started by RootsVida – can you tell us more about it and how can riders take part? Are you seeing an uptick in female riders as well?
Riders from any part of the world can participate in the Great Indian Riding Festival. You have 25 tours to choose from – find your date, choose your route, book the tour and you are ready to ride. You can visit our website for more details. Each tour is carefully mapped with a safety vehicle and experienced tour captains.
It's always a 'Yes' to female riders. They are one Kickass species when it comes to riding. We have seen a lot of interest from the female fraternity for it. There are others who are not riders and so are dependent on some other rider for being a pillion. However, there is a significantly visible increase in number of women riders in India and trust us they are crossing continents.
What are some upcoming destinations travellers can anticipate this year as part of the Roots repertoire?
We are doing tours in and around the Himalayan belt this season. Kashmir, Ladakh, Spiti, Kinnaur, Uttrakahand – Chopta, Tungnath, Mana, Jaunsar, and the list goes on. With the much anticipated trip we would soon be rolling out the third edition of ESCAPE.
Escape is a one-of-a-kind trip, where we don't tell customers where we are taking them. It's a complete surprise and just give them clues. Imagine you hop on a bus – meet some crazy fun loving people – look out of the window to guess exactly where we are heading – and reach this amazing place without having a picture in your head.
As part of the Roots team, what is your personal favourite destination and why?
Shally: For us Spiti is one place that we wish to visit again and again.
Anurag: I always wanted to fly like a bird, feel that freeness, it's the place which takes me closest to that feeling. I always say it's a place where time stops and thoughts fly.
What's one travel accessory you can't live without?
Anurag: I think it should be bandanas for me hahaha… ok its camping blade. Always needed.
Shally: I guess it's the right pair of shoes ( choose according to the place ). As I say, you best explore the place only on 'Foot' !
Your top 3 favourite desi road trip songs?
Anurag: Babaji from Fitoor by Mohit Chauhan (it takes me back to my roots), Dil Dhadakne Do from Zindagi Na Milegi Dobara, and Atrangi Yari by Farhan Akhtar from Wazir.
Shally: Illahi from the movie Ye Jawani Hai Deewani and Pattakha Guddi from Highway.
Being a part of the travel industry in India, what are your thoughts on the current state of tourism in the country and where do you see it going? What are travellers in India wanting or looking for when booking trips?
Travelling in India is changing drastically now. If we talk about masses, earlier it was like visiting holy shrines and temples with the whole family. The other times you would just holiday when you are on a honeymoon.
There is a new wave that has now broken all the stereotypical destinations of travel. People now want to explore with an instinct – "Ki yaar kuch alag karna hai".
Secondly they want to try everything. This idea gave birth to backpacking trips, visiting offbeat places, travelling on a minimum budget. But this budget is in correlation with the kind of experience too – This means he [the traveler] doesn't want to stay in an amazing property and pay 4k to 5k a night, but yes he is ready to spend 20k to hire a bike and roam around. So in simple words – "People now want to spend on experience".
The frequency of an average Indian traveler has definitely increased. But the expense on per trip has gone down too as compared to previous years. Trips have always been dependent on family, cousins, friend, colleagues etc for which the decisions were collective. The big change is people now make independent decisions, google the destinations they wish to visit, join some travel group for any adventure or simply go on solo trip.
Interested in finding out more about Rootsvida tours? Check them out on Facebook, Instagram and Pinterest.
*Photo Credit: All photos courtesy of RootsVida.