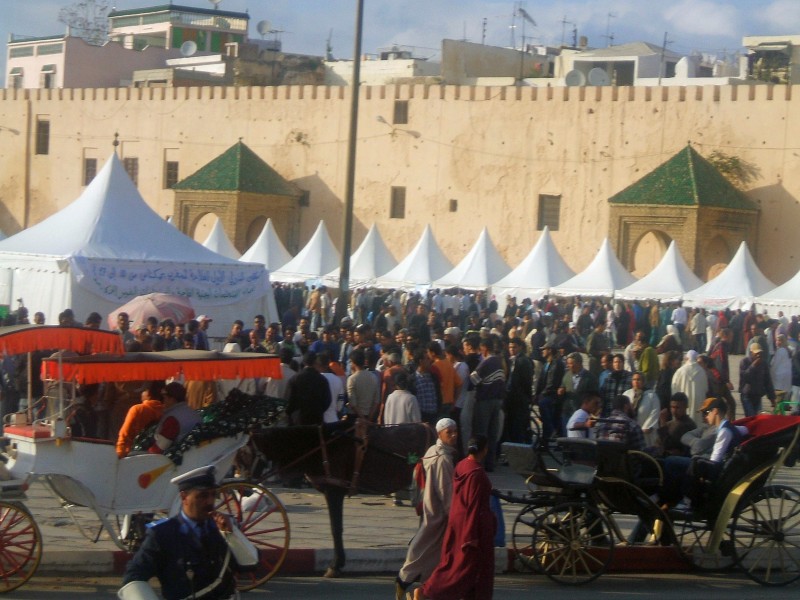 From Souks to the Sahara: Seeking Connections in Morocco
Long before Bollywood flick Zindagi Na Milegi Dobara waxed poetic of living life to the fullest and taking spontaneous road trips, I was travelling in Spain on a solo journey and was in Sevilla when I decided to book a last minute trip to Morocco, a country I have long wanted to travel. I booked a 5 day tour headed to Tangier, Meknes, Fez, Chefchaouen, through the Atlas Mountains and staying a night in the Sahara Desert. I was the lone Indian and only Canadian girl on the tour, with 30 American students, an Aussie and an Icelandic.
Leaving behind the land of siestas and entering the bustling medinas, I was bubbling with excitement on my first trip to Northern Africa. After learning about ancient mosques and madrasas (schools) and walking by public fountains, libraries and bakeries, the five traditional elements found in each Moroccan city, we navigated our way through the open air market in Meknes and narrow souks of Fez.
Darting in all directions, fast paced crowds of locals were beginning their day, some greeting us with an "As-Salam Alaykum!" a "Bonjour!" or an "Hola!" as we walked past them and into the souk. The Moroccans have three official languages – Arabic, French and Spanish with English being optional. With my senses amplified, the mountains of saffron spices, on display like miniature sand dunes rising up in peaks and valleys, captivated my eyes. The aroma of spices, reminiscent of my mother's cooking and the earthy smell of incense and perfumes reminded me of Indian kitchens and desi shops from around the world. Row upon row, fresh delicacies, Moroccan mint tea, hand crafted shoes, carpets, jewellery and paintings lined the narrow, winding paths.
My eyes, scanning for bargains and unique items, finally rested on something familiar. Amitabh Bachchan films?! In the middle of Fez? Intrigued by this pop culture find, I stepped towards the stall.
From Morocco to India, travel makes us learn, understand and connect with people, leading us to find similarities more often than differences.
With my dark features and purple pashmina wrapped around my shoulders, the Moroccan shopkeepers smiled and instantly knew. "Namaste! You are Indian! We like India and Amitabh Bachchan. Come, come, we show you. Special price for you!" The charm (and the lower prices) worked for me to the chagrin of my fellow tour mates.
After listening to the annoying chatter from the bubble-wrapped American students – "Oh my god! This is like developed Africa!" (while in Tangier), " I feel uncomfortable and I want to leave" (while in a souk in Meknes), "Did you hear the latest on Brangelina?", I was aching for solitude, contemplation and reflection. The magic of the Sahara desert was waiting.
We headed for Rissani, where we took jeeps to the oasis of Merzuga, giving us our first taste of the Sahara. Its dunes stretch infinitely into the horizon and some rise more than 150 meters skyward.  Simply breathtaking.
As we reached our camp, we were welcomed by our Moroccan hosts at our haimas, communal tents operated by the Berbers, the original inhabitants of Morocco and then graciously hosted to an authentic dinner with lively music.
Conversations, connections and moments in time are what make your travel experience rich and memorable. By listening more and talking less, you will find the world a lot smaller and cultures more familiar.
From enjoying the savoury tagine and spiced vegetables, to meeting and conversing with Isah, a nomadic Berber who nicknamed me Fatimah as he walked me to the dunes, to dancing the night away to the beat of the drum, a universal sound heard around the world, to laying outside looking up at the stars in the stillness of the Sahara, were all moments that connected us to Morocco and its people. That night, even the American girls were soul-training their way to having a good time, dancing under the stars, and finally understanding the power of the Sahara.
Up at 5am, making friends with my camel Abdul, we set out over the tall, golden brown sand dunes to watch the sunrise. With the group silent, awe-struck by the beauty of the Sahara, I had finally found my moment of peace.