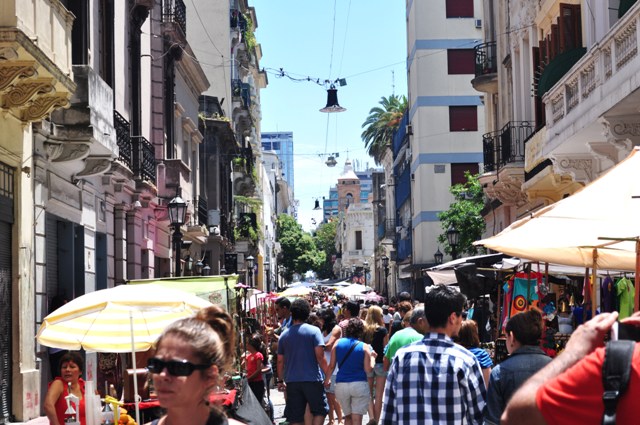 The Very First Time
We hop into the backseat of a waiting taxi in San Telmo. "Caminito?" I ask the cab driver. He nods.
"Well, that was fun…" I think to myself, smiling. We had just spent the last few hours at the San Telmo Market, one of the busiest open-air artisan markets in Buenos Aires drawing twenty thousand shoppers every Sunday. Hundreds of stalls line Calle Defensa Street, where free-spirited vendors share their hand-made creations and street buskers perform to Latin beats. The cobblestoned streets are flanked by independent art galleries, cafes and shops. It's a sunny December day and the streets are packed. It's a lively atmosphere and I'm very happy with the hand-made cuff bracelet I just bought. Satisfied with the market, we were ready to explore the next barrio.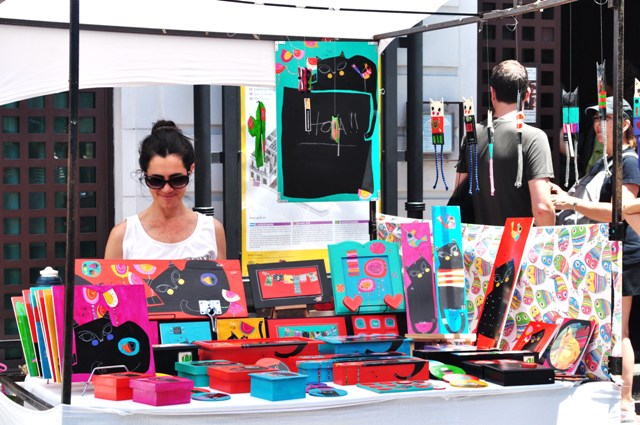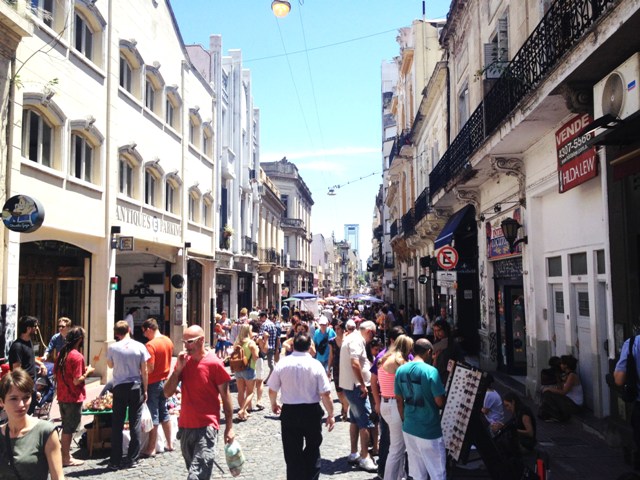 Getting comfortable in the cab, I hoist my backpack on to my lap.
That afternoon had been really fun.
Until now.
Seated in the back of the cab, I look down at my backpack and notice something very odd. Odd enough to make me worry.
The bottom zipper of my backpack was wide open. Maybe I left it open?
I start searching the front pocket to make sure everything is there. I have my headphones. I find some tissue paper and cough drops. But…
"Wait, I can't find it…" I furrow my eyebrows in confusion. I look over to my husband and back at my bag.
I scramble around my bag, opening and closing zippers. Checking and re-checking my backpack. My heart starts beating faster. I refuse to believe it at first. But then confusion turns to shock. Shock into frenzied panic. And panic into anger. How could this happen??
"Oh my gosh, it's gone!" It's gone!"
"What?! What's gone?"
"My Iphone!!"
I couldn't find it anywhere. To make matters worse, I didn't even have a passcode on it.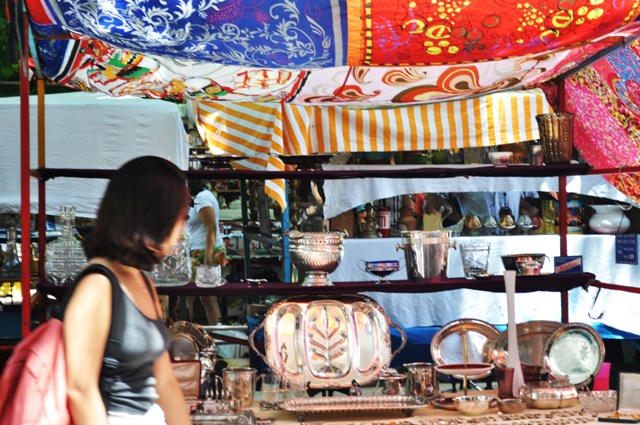 "Hold on, it can't be gone…look again. I'll look in my bag." My husband starts searching his bag and the cab floor and in between seats.
As the cab starts to drive away from San Telmo to Caminito, our heart sinks into our stomachs as reality jolts us out of our fun day and into a disappointing few hours. It's hard not to let your emotions get in the way.
The one thing we didn't want happening to us, happened to us. Clearly agitated and not knowing who to take the anger out on, we start squabbling with one another.
How did it happen? When did it happen? It wouldn't have happened if THIS was done. It wouldn't have happened if THAT was done. Well, you opened the zipper last! But you had the backpack on!

We re-traced our steps over and over in our heads. I remember enjoying a street performance and people pushing up against me to get a closer look. Could it have been then? Or did it happen just before we got into the cab when the couple pushing a baby stroller caused a distraction? I've watched enough of the show Scam City to know it can happen to anyone, anywhere if you're dealing with professional pick pocket artists. Or did I drop the phone in the art gallery? No, no, I definetely know I always close the zippers on my backpack. I wouldn't have left it open.
Nonetheless, I wore my backpack on my back, instead of in the front. I was kicking myself as that is one of the cardinal rules for travelling: in busy areas where your backpack up front.
Feeling defeated, cheated and vulnerable, we had atleast one good thing on our side.
Atleast WE were okay. And I hadn't taken too many pictures on that Iphone. The frenzied moment was never about the phone, but about the tedious 3 HOURS we spent afterwards calling our phone carrier, cancelling the phone and changing passwords for several apps, emails and websites.
All this, right before a three course dinner and tango show that evening! Lovely.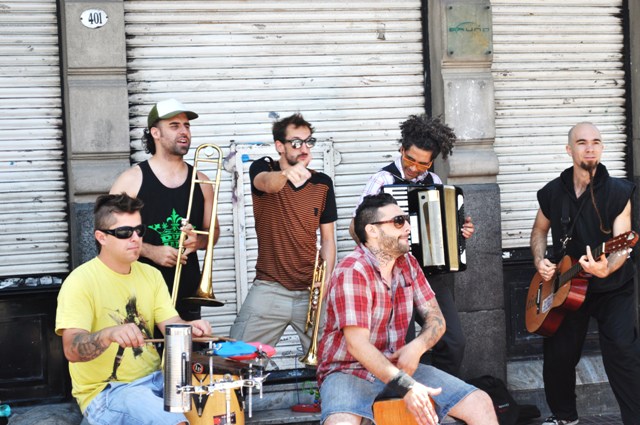 Travel 
Tips
Well, that moment definetely sobered me right up, but it didn't ruin my trip. Here are a few tips to ensure you have a safe and happy trip:
Listen to locals. Buenos Aires is the first city I've travelled to where on a couple of different occasions random locals were telling us to be careful of our belongings. I shrugged it off a few days prior to getting pick pocketed. After all, we're not new to travelling or scared to be in a foreign place. But if locals are saying it to you…learn to listen.
Put a passcode on your phone if you haven't already. Even if your phone is taken, atleast you don't have to worry about changing every password for all your apps. Trust me, it's annoying to have to do it.

Get a "Find My Phone" app that will track your phone with GPS if it's taken or lost.

In busy markets and streets, wear your backpack up front where you can see it.

Take extra caution, but don't let it consume your trip.

If you are pick pocketed, let yourself feel the emotions for a few hours, then let it go. Don't let it ruin your trip. After all, it can and has happened to others before.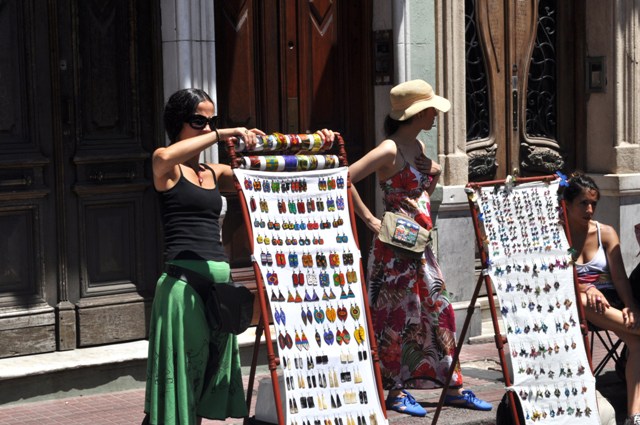 Badge of Honour
After a decade of globetrotting without any issues, it happened. It wasn't supposed to happen to me…no, not at all. I was a seasoned traveller, a smart traveller I would say. No slashed bags before. No missing passports, camera or money. No swiped credit cards. Nope, never. Not in Mumbai. Not in Paris. Not in Istanbul or Bangkok. And not at home in Vancouver either.
You see, seasoned travellers become a little too comfortable sometimes. And we can let our guard down. I survived the shabbiest of conditions here, there and everywhere, it won't happen to me!
Travel stories are made up of misadventures. It's what makes us adventurers love travel so much. Misadventures become almost like an initiation for globetrotters…where we are tested to become stronger and wiser with each mishap. Maybe then we can finally be inducted into the Travel Hall of Fame.
I'll consider my misadventure a badge of honour!
Photo Credit: Creative Commons, Desi Globetrotter