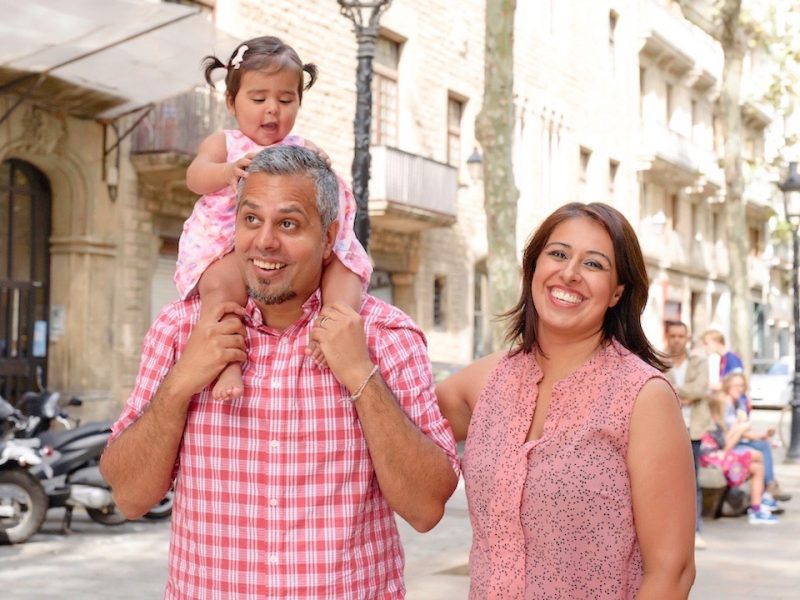 Travelling to Europe, Asia, South America or Africa soon? For those of you not up to par with your selfie-game, capturing those vacation memories with a professional photographer might be the best way to go.
Family Travel – Capturing Memories
Earlier this fall, my husband and I took our first family vacation to Europe with our eight month old daughter. Being an adventurous soul with an obsession for travel, I wasn't going to let becoming a new mom stop me from following my passions – it's important for me to include my daughter in the activities I enjoy. With fingers crossed, we took the leap and travelled from Vancouver to Greece and Spain.
People always say why bother travelling with a baby – they will never remember it. That may be true, but that moment you get to the top of the Acropolis with your family or that moment you realize you're in Barcelona experiencing a Flamenco show with this beautiful little being– simply priceless.
Travelling with a baby may not be the most relaxing at times nor the same as before, but it's an exhilarating adventure. Our daughter won't remember the trip – but I will and there will be pictures to prove it. As a globetrotter, the only possessions I care to have are my photos, a reflection of my memories.
The Selfie-Game
The challenge is – I suck at taking selfies. I broke a new selfie stick last year in Paris within a few minutes of trying it and never bought one again. The front-facing camera on my phone doesn't deliver the quality of photos I want – they come out hazy at times and depending on the light, the photos can be washed out. Our DSLR camera doesn't have an option for selfies either (an oversight on our part when purchasing the camera) and my husband doesn't like asking people to take our photos – they never turn out the way we want anyways. Many times, when we come back home, all I see are thousands of photos of buildings and sites, and very few good photos of us.
As the saying goes, "it's not where you go, it's who you travel with." Memories are about the people we travel with – the destination is sometimes secondary. The first time I had professional travel photos taken was in Mexico during our babymoon last year to capture my baby bump. Once we booked our trip to Europe this fall, I knew I wanted professional family photos again. This was our first trip as a family of three and being globetrotters lacking selfie-skills – it was a no-brainer.
Shoot My Travel
After doing a few quick online searches, I found the answer I was looking for. Shoot My Travel is a Miami-based international travel photography booking site that launched in 2012. They have a pool of vetted photographers from around the world who are not only experts in their field, but also experts on their cities. It's like walking with a local guide for an hour or two who just happens to be an awesome photographer to boot. Not only that – all the packages are laid out on their website, saving time from emailing individual photographers back and forth for quotes. With a click of a button your package is booked and a "Destinations Concierge" gets you in touch with the photographer to work out the details.
The Founders
The founders, Valerie Lopez (a photojournalist) and Camilo Rojas (a graphic designer) are both passionate about travel. While they were travelling through Europe they noticed they had amazing pictures of each other, but really no good pictures of themselves together, so they thought of having a photographer tag along with them. When they came back, they started to put more thought and energy into the idea of starting this as a new business. Valerie shared the idea with her mother and it was a very special moment when she found out that her father (who passed away 26 years ago while her mom was pregnant with her), hired photographers while they traveled to capture their family memories. She actually has all the printed pictures of them abroad and it was a silver lining moment for them before launching Shoot My Travel.
As much as the world is overly obsessed with technology and there's always talk about enjoying life without documenting it, I feel it's still important to have travel photos as physical legacies or family heirlooms to pass on generation to generation. With everything in life – balance is key. A shoot with a professional helps you focus on each other as a family and to have a fun experience without fussing over the right angles or filters – you let the photographer take care of it. The travel shoot in itself becomes a part of your travel experience.
Our Experience
We chose to have our photo tour in Barcelona, the last leg of our trip. It was easy to book a date and location with our photographer, Carolina (who we chose after seeing her photography portfolio online). We were also able to indicate what kind of experience we were looking for and where we wanted to explore. Having been to Barcelona before, I knew I wanted to wander the Gothic Quarter again and because we had our daughter with us, I wanted to also include a fun, family photo in a playground.
In addition to the Gothic Quarter, Carolina also suggested visiting the neighbourhood of El Borne, an area I haven't explored before which was a nice surprise. Carolina was friendly, talkative, professional, interactive with our daughter and most importantly patient.
As we made our way through the neighbourhoods, Carolina talked about the history of the Gothic Quarter and El Borne. With a squirmy daughter who loves to pull my hair, it was a bit challenging to pay attention, but when my daughter was more relaxed it was easy to talk to Carolina and learn more about her. She moved to Barcelona from Mexico 14 years ago and loves the city. She talked about her favourite restaurants, her favourite type of photography, and how the locals feel about mass tourism. She put us at ease, listened to our suggestions for photos and would ask other tourists politely to move out of the shot – something that we would not feel comfortable doing ourselves. As a result, we have some cool photos with no one else around.
The best surprise was how fast we received the photos. We booked the photo tour on the day before we were leaving Barcelona and by the time we flew back to Vancouver the next day, the photos were in my inbox. We now have quality photos of us on our first vacation together. I still look back and think – Whoa, We did it! We travelled across the world with our daughter! Crazy.
Although I do wish Shoot My Travel offered more photos with their packages and as it's a walking tour you are limited to shooting in one or two locations, I was happy with the quality and efficiency of their service – from the initial online booking to reserving a date and time with the photographer, the photo tour itself and delivery of the final photos.
A Travel Experience – With Photos
With vacation photography being a new trend, more and more companies are starting to offer these types of services. I recommend doing your research and finding the best package and experience for you. For me, what made Shoot My Travel special is it's more than a posed photo shoot. As part of our package, we not only received the physical photos, but also a travel experience where we learned more about Barcelona through interaction with a local. As our daughter grows and we take her on more trips, it will be important for her to see us interacting with different cultures around the world. A photo shoot with a local might be a good starting point.
Note: I was provided a photo tour courtesy of Shoot My Travel to try out the service. Views are my own.