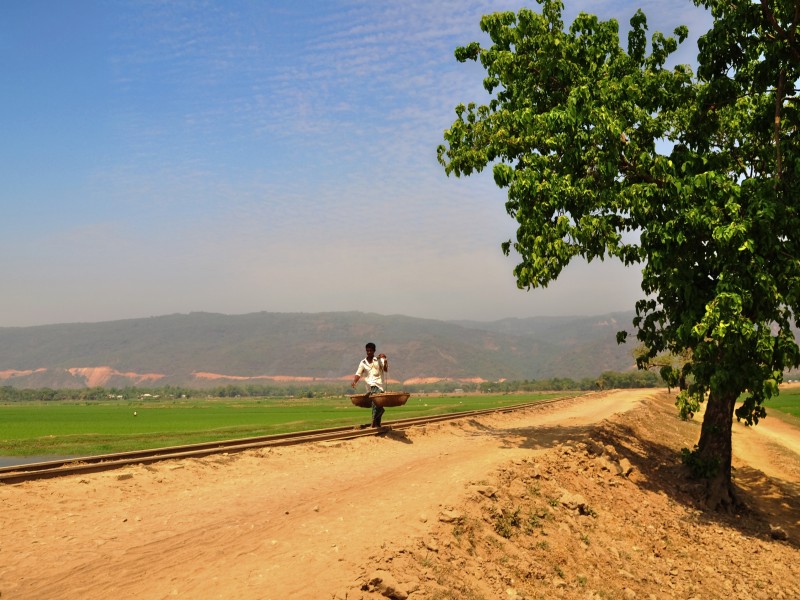 As travellers looking through a tourism lens, sometimes we simply have a singular perspective of a country we visit, often staying for a short duration and catching only glimpses of local life. However, being politically aware and culturally sensitive is the hallmark of today's world traveller. The relationship between tourism and international development continues to grow – and sometimes even blur together – as travellers are demanding tailored options for leaving a positive footprint and making a real difference in their host country. But can these tourism opportunities provide a full picture of the complexities of a country? As travellers, are we ready to write or draw assumptions about poverty, environment, animal welfare and social issues when wearing a tourism lens or taking part in a short volun-tourism stint?
Take off the tourism lens and shift to international development and these issues can become even more challenging to answer even for someone living, breathing and learning about development on a daily basis.
In this next post, we are transported into the mind of professional development worker, Zahra Esmail as she shares her conflicted thoughts on writing about her experiences after being in the field for almost 3 years:   
DIFFICULT DECISIONS
When I was asked to write a blog entry about my travels, either for pleasure or for work, I was stumped. After working as an international development professional in several fascinating countries, I simply could not decide which experience to write about. I recently spent 1.5 years living in Haiti, and it is by far the most challenging place for me to discuss in writing. I had never experienced such a complicated environment before – where the best of the Caribbean mixes with the worst, particularly in the aftermath of the earthquake of January 2010. How could I provide readers with an accurate picture of Haiti? This is a task I shied away from time and time again, as I felt that my time in Haiti was not something I could easily discuss in a single blog entry.
SIERRA LEONE
Now, as I write this post, I am sitting in a guest house in Bo, Sierra Leone. Bo is the second largest city in Sierra Leone after the capital, Freetown, and yet it feels like a hamlet. The air feels clean where I stay, it is safe to take okadas (motorcycle taxis), even at night, and there are no coffee shops in sight. Bo has a population of 250,000 people and yet is a place with a quiet rural feeling, in spite of the presence of a bustling marketplace in the center of town. Electricity is better now than during my past visits because it is the rainy season and much of the energy is hydro-powered. This is my third trip to Sierra Leone in six months and other than sharing little tidbits like that, do I feel that it's a place I can blog about? No. I simply haven't learned enough about it, other than the fact that it is beautifully green with thick jungles, and has some of the friendliest people I have encountered.
INDIA & BANGLADESH
Let's switch to India and Bangladesh. I have spent a fair amount of time living and traveling in South Asia. Perhaps because I feel emotionally connected to India, with it being the place from which my family originates, I feel that I am better placed to speak of it. This is the place where my flirtation with international development work began, and in Bangladesh, it transitioned to become a full-fledged relationship.
I spent eight months working with a local support organization based in Jaipur, where I was able to spend extended periods of time learning about small non-governmental organizations (NGOs) in rural Rajasthan. This experience helped me understand the unique challenges facing a diverse country like India – tremendous growth in the cities combined with villages that seem to have been left untouched by India's modernization. I concluded that there are no absolute truths in India; no matter what a person says about India, the opposite is 100% true, especially when speaking in terms of "development".  It's fascinating, really.
And Bangladesh. It's a place where I witnessed the most incredible momentum in terms of poverty alleviation and progress, and yet, the congestion of 150 million people in a small country keeps Bangladesh from surging ahead. One thing that struck me in Bangladesh is that even in the smallest village, the most marginalized households were aware that they should wash their hands with soap to stay healthy, that having multiple children is not good for the country or for themselves, and that educating their children was one of their key pathways out of poverty. Having so many villages in close proximity to one another is one of the factors that helps spread these messages at a fast rate – perhaps the huge, dense population is a blessing as well as a curse.
PERSONAL IMPACT
What is the point of this blog post? I suppose to allow me to share a glimpse of my work-related travel overseas, and to try to explain how hard it can be to sum up any of these experiences in a finite number of words on a page. The impact of each of these visits on me and my understanding of development work is boundless, and each experience makes me realize how much more I have to learn.
-Author: Zahra Esmail
Photo Credit: Wikimedia