Capture the Colour Contest
I love entering contests. Since I've started blogging the last couple of months I've been keeping an eye out for writing and travel photography contests to keep my creative juices flowing. I've been connecting with travel bloggers online and was recently nominated by Venkat Ganesh of India Backpack Motorbike to enter the Capture the Colour Photoblogging Competition by Travel Supermarket.  I jumped at the chance and it would give me an opportunity to look back at all my travel photos – who doesn't like doing that?!
The contest requires the entrant to choose 5 photos that capture the colours Red, White, Blue, Yellow and Green. Prizes include £2000 plus up to 5 ipads to be given to category winners. Bloggers from around the world can enter. Head to their site to for terms and conditions.
Here are my five:
Red
This picture was taken at the Chouara Leather Tannery in the ancient 9th century medina located in Fez, Morocco. The large pits called vats are used for dying the skins. The process of making raw hide into leather includes soaking the animal skins in cow urine, quicklime, water and salt. The workers then wash the skins with ammonia rich pigeon poop (softening agent) and water before manually kneeding the skins with their feet to make it softer. Once softened, the skins are then soaked in colourful vegetable dyes. The cow urine and pigeon poop definetely made the experience smelly, but I was offered a mint leaf to put under my nose! After watching how hard the tanners were working, it gave me a whole new respect when wearing my leather sandals.

Blue
I took this picture during the Semana Santa Easter procession in Seville, Spain during Holy Week. Over half a million people in the streets to celebrate and honour the Roman Catholic religion. The mysterious brotherhood of Nazarenos (people of Nazareth), with their pointy hats, robes and covered faces, are often mistaken for the Ku Klux Klan, but there is no connection between the two. Although a bit alarming and unsettling to see, the head to toe costumes signify their mourning of Jesus Christ. Watching the Semana Santa processions along with the street fiestas was one of my favourite moments in Seville.

Green

Hot green peppers! I took this picture in the Dominican Republic during a tour of neighbouring cocoa and coffee plantations. The chile peppers do a good job of blending in with nature.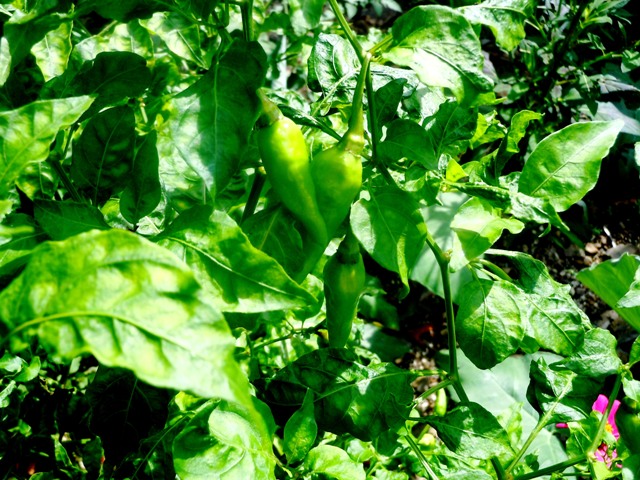 Yellow
This picture is of a decorated window sill of a dessert and cappuccino shop in Florence, Italy. Espresso, creamy gelato, fruit speckled sweets – heaven for a dessert lover like me. With enticing window displays like this, how could I resist? With my eyes widening and mouth watering I head inside like a kid in a candy shop.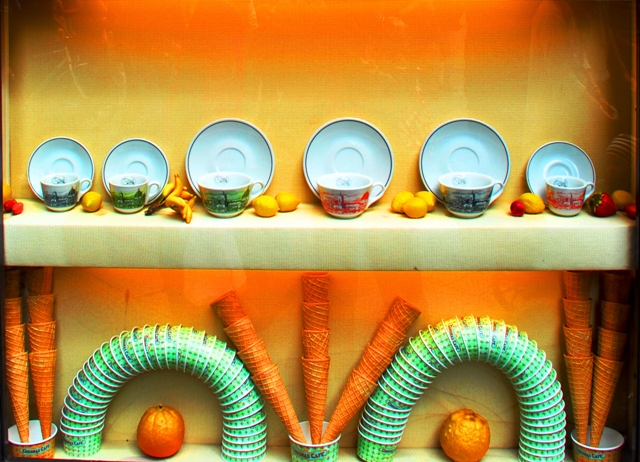 White
This picture was taken at Phi Phi Islands in Thailand. I've always been drawn to monkeys and I feel this picture captures its intensity in the eyes. The small patch of white coloured fur complements the tree branch and contrasts with the brown. Thailand has lots of monkeys in and around the many islands and most come in contact with tourists. They are most happy when given food, although I'm not sure how sustainable that may be. Just remember not to anger them.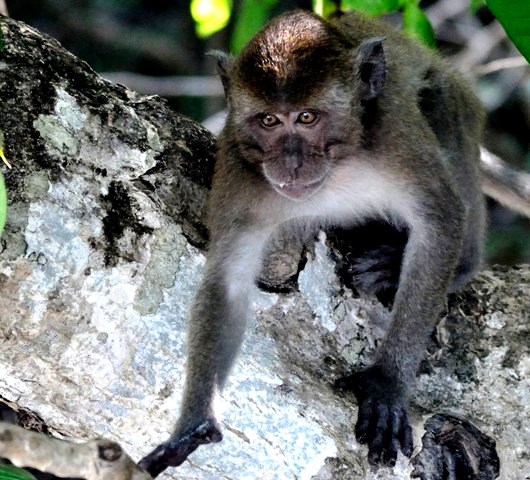 I nominate:
Even if you're not nominated you can still enter Capture the Colour contest. Good luck to everyone who enters!