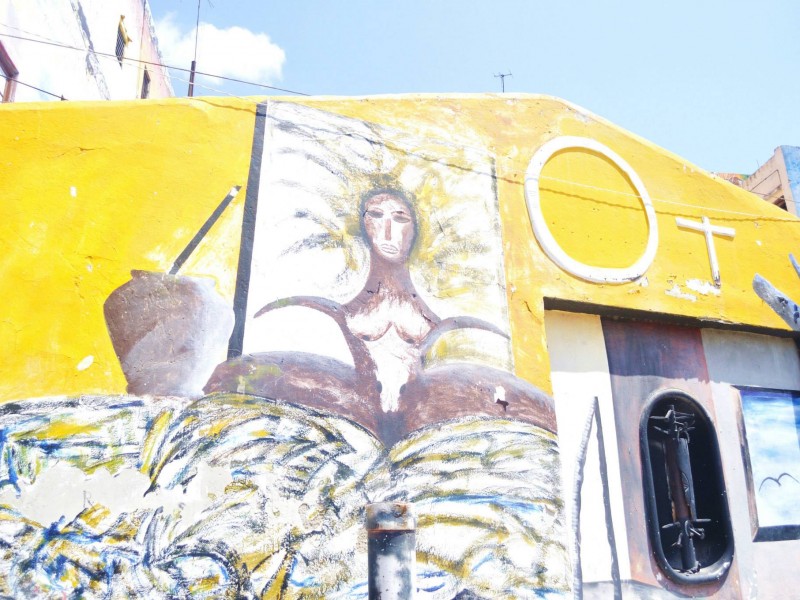 Street art is like a public tattoo. Sometimes loved, sometimes hated and always open to interpretation. Whether political, cultural or religious, legal or illegal, street art is a visual statement capturing a city's zeitgeist in a completely creative way. Colourful, vibrant murals that pop against dull, cement walls become a source of neighborhood pride while offering visitors a powerful look into a city's cultural scene. And Callejón de Hamel (Hamel alley) is such a place in Havana's Cayo Hueso barrio. After checking out Bollywood in Havana, make your way to Callejón de Hamel.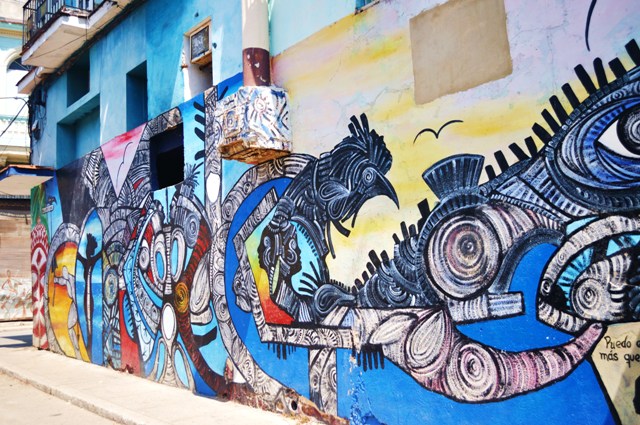 Colourful, local and residential, Callejón de Hamel is a short drive away from the busy streets of central Havana. It's raw, real and a visual feast for visitors' eyes. Vivid murals painted panoramic and sky high, indoor and outdoor shrines and sculptural pieces dedicated to the Afro Cuban religion of Santeria, document the African history of slaves in Cuba. Santeria is a mix of the West African religion Yoruba with elements of Roman Catholic and Native American traditions. It is often misinterpreted as a 'voodoo' religion as it involves trance, animal sacrifice, deity worship and sacred drumming and dancing. To visitors, the murals, shrines and deities (orishas) mixed in with imagery of Cuban nationalism may seem very kitschy, but to locals it's a source of identity and heritage – an area they are very proud to show to visitors.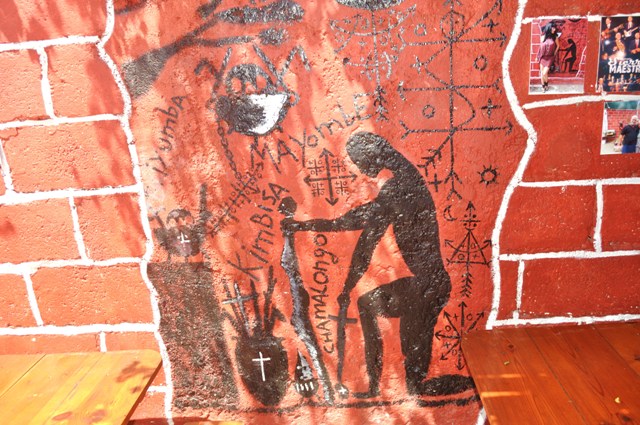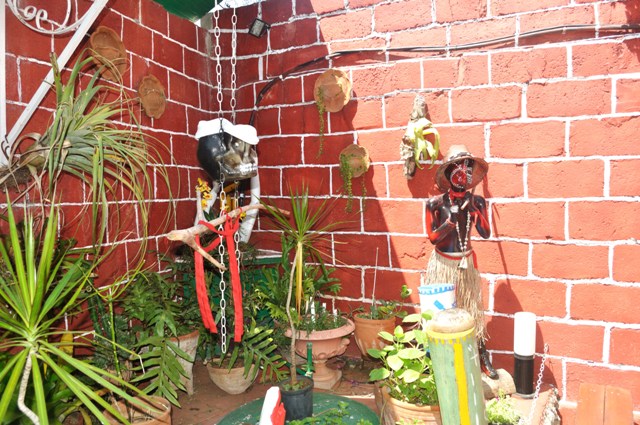 Stepping out of the taxi, our driver Raul cautions us about the neighbourhood. Although most of Cuba and Havana is generally safe, he hasn't been to this area in a couple of years and wants to keep an eye on his car. Raul walks with us down the street when a local man, dressed in white approaches him and they converse in Spanish.
"This man is a musician and he plays in a band on Sundays, here on the streets," Raul says, translating back and forth.
Sunday is the day for lively Rumba music and dancing. Although I would have loved to hear the music, I'm glad we came on a Saturday afternoon instead – no tour groups except for a small handful of individual travellers like us.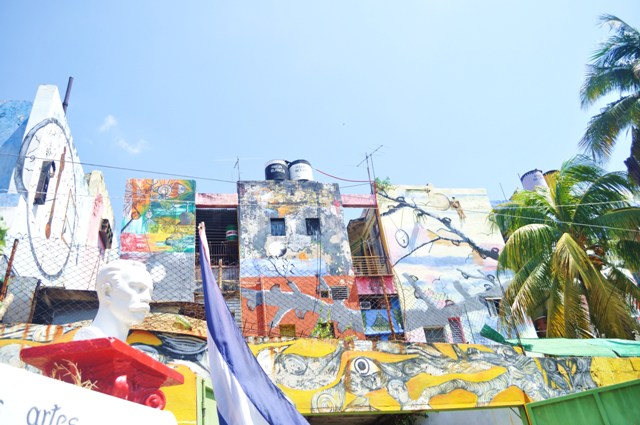 "What's his name?" I ask Raul.
"Jesus."
Jesus (pronounced "Hey-zeus") is friendly and interested in showing us the neighbourhood. This works perfectly as we now have an unexpected local guide from the neighbourhood. Although he wanted us to buy his CD, he wasn't pushy and I was happy to buy the cd directly from the musician himself.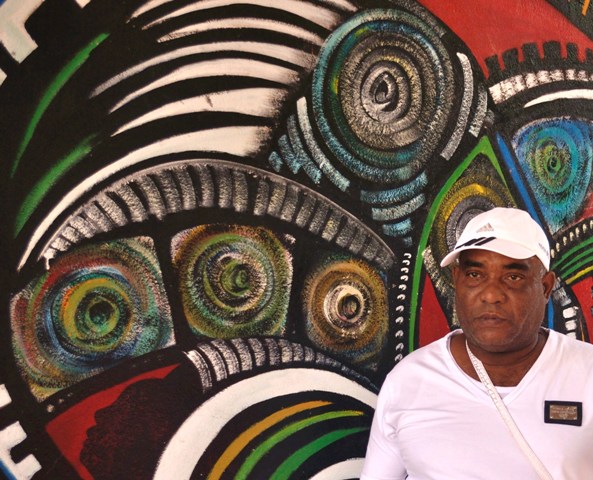 I was curious to find out who the artist was and if the community was involved in making the murals.
"One artist, Salvador Gonzalez Escalona," Jesus replies proudly.
Salvador, now in his 60's, started his murals back in the 1990s, over the years slowly transforming the slum area into a vibrant community where locals revere him and visitors intrigued by his art.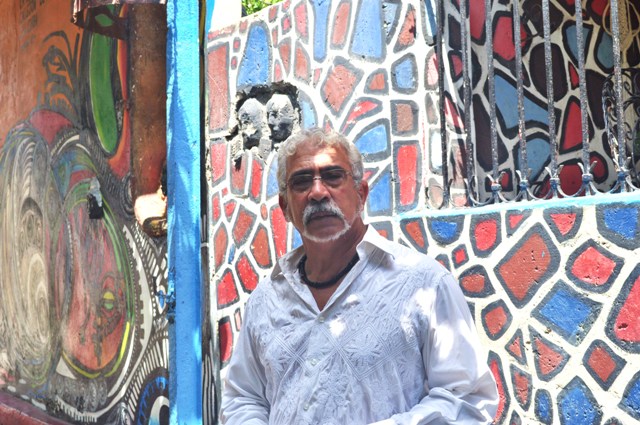 Bursts of bright blues, yellows, reds, greens and blacks are splashed on street walls in an Afro Cuban style Salvador has once described as a mix of surrealism, cubism and abstract art. "Each colour, the yellows, the reds have meaning in our religion," Jesus explains in Spanish.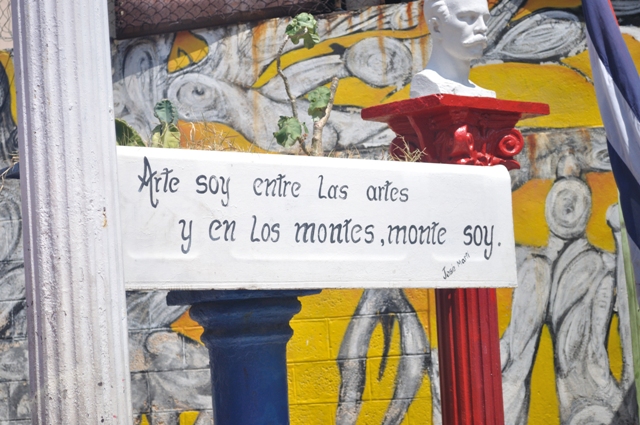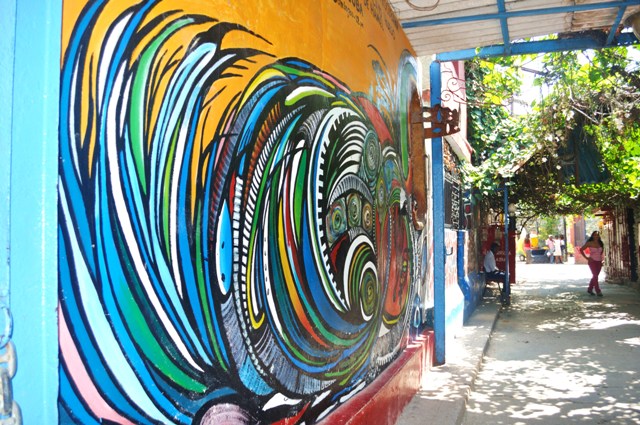 While our driver Raul heads back to keep an eye on his car, we stay with Jesus as he leads us in and out of art shops and cafes with shrines dedicated to Santeria skulls and deities. If you love Salvador's murals, head inside to one of the art shops selling his paintings and you can take a slice of the vibrant alley home with you.
Although he has exhibited his art work around the world from Norway to Spain, Rome to Mexico, Callejón de Hamel is still Salvador Gonzalez's art playground. You'll never know when you run into him. He has also been an inspiration to the next generation of artists in the area. Students and apprentices learn directly from Salvador and their work is on display alongside his for purchase at many of the art shops.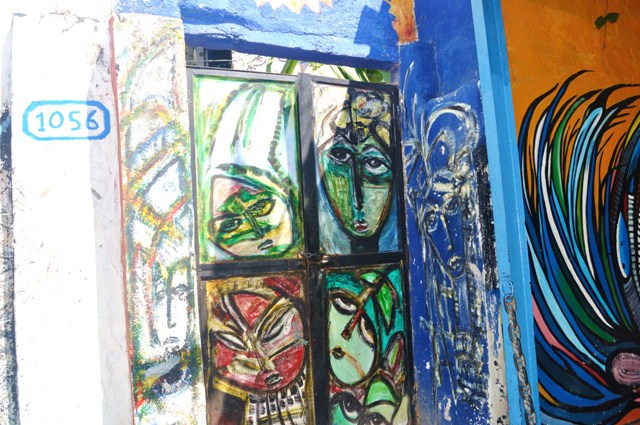 We were lucky to personally meet him as we stepped back into the alley outside one of the shops. Even in his 60's, he gives off a young vibe, someone laid back and casual. We shake hands and he graciously accepts the compliments I give him.
Spending a sunny Saturday afternoon walking the artsy lanes of Callejón de Hamel was a highlight of my trip to Havana. From an impromptu meeting with a muralist to an unplanned neighbourhood tour by a local musician, Callejón de Hamel became a neighbourhood of chance encounters and learning opportunities with street art offering a glimpse into Afro Cuban culture. It's funky, raw and local and if you're looking for an "authentic" Cuban experience, this is as local as it gets.
Sure, you may run into some tourists, but with friendly, welcoming Havana locals why would this area be a kept a secret? An afternoon in this sliver of Havana is nearly not enough time – make sure to leave ample room for exploring.