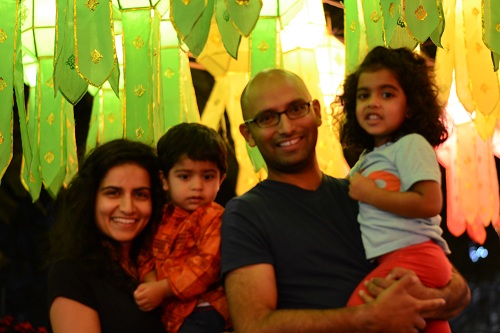 Think it's impossible to travel to far off places when you have kids or maybe one week beach vacations & Disneyland seem like your only option? I'm in my early-thirties, married with no kids, a travel nut and often think about those questions. More than once (okay, atleast a million times since being married), my husband and I have been approached by young parents telling us to "travel now before you have kids," "enjoy this time," and "wish we travelled more before we popped out the little one."
Listening to those parents makes me want to travel more now, to savour this time and have my last 'hurrah' before giving up on adventurous travel. I want to make the most of my 3 weeks of vacation a year before having kids and enjoying vacations in a different way. But does adventure and cultural travel have to be over?  Can I go to the middle of Africa with my 2 year old for a year?  The high cost of living and limited vacations per year usually tell us otherwise. 
On top of it there seem to be very few examples of young, middle class urban/suburban professional South Asian couples in their thirties and forties taking a leave of absence from work to travel for an extended length with their kids to places like Namibia or Myanmar. And if they do, they must either be rich or nomadic hippies right?
That was before I came across the story of Diya and Sandeep Luke.
In my endless search in finding inspiring and candid travel stories from desi globetrotters and a need to challenge the status quo, I read a story in the Huffington Post featuring a young, urban South Asian family that made their dream of extended travel into a reality. I got in touch and an interview unfolded.  Here's their story:
Introduction
In their mid-thirties with thriving careers and a Manhattan apartment, Diya and Sandeep Luke decided to leave it all behind for an epic around the world 10 month journey with their two toddlers, Ava and Kayan, in tow. They currently chronicle their adventures on their blog, www.minordiversion.com and have contributed articles to the Huffington Post and Conde Nast Traveler India.
Names: Diya, Sandeep, Ava and Kayan Luke
Ages: 2 through 34
Home City: New York City
Professions: Investments, Business, Silliness and Messiness
Travel itinerary: Ten months of around the world travel including Hong Kong, Thailand, Malaysia, India, Myanmar, Turkey, Greece, Namibia, South Africa and Brazil.
Interview
Desi Globetrotter: What inspired you to take time off from your careers and travel the world with your family and how long have you been on the road?
Diya Luke: We have been on the road for eight months. This journey was inspired by our own love for travel and desire to foster an appreciation for other cultures and our world in our children.
Desi Globetrotter: Did you have any reservations about travelling with two toddlers? What are some of the concerns you had before the trip and how do you feel about it now?
Diya Luke: Our son took his first international flight at eight weeks old. We were always adamant that travel be part of our children's lives. They are comfortable flying and living in strange places, which has made our nomadic existence much easier. Our only reservation was about health care. It turns out that the kids are healthier on the road than they were at home.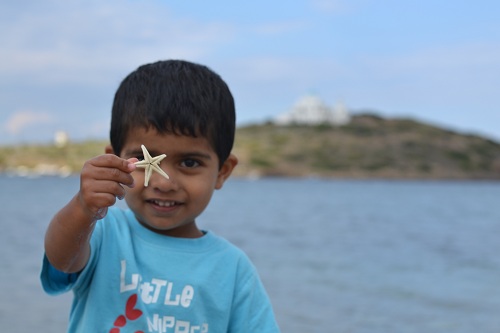 Desi Globetrotter: One of the most common questions people have is about travel costs/budgets. "How can I afford this without working for an extended period?" or "How will I afford my mortgage if I travel?" What are some of your tips for saving for an around the world journey and what has been your source of travel funding for this trip? (did you sell your possessions, work two jobs, etc).
Diya Luke: Sandeep has been consulting part time, which brings income while on the road. I took a leave of absence. We are both very fortunate to be able to continue our careers. What we have found is that it is possible to live a higher quality life in certain parts of the world on a fraction of our pre-trip incomes. For those who want to budget, I would suggest choosing lower cost places (South East Asia tops our list), staying in apartment rentals, cooking in once in a while and taking public transportation.
Desi Globetrotter: As South Asians, we're conditioned to follow the traditional path of school, career, marriage, having a mortgage and raising a family and sometimes ignoring our dreams to take care of responsibilities. Since you've gone off the traditional path for a short while, what was the reaction of your family and friends when you decided to go on this trip?
Diya Luke: Envy is the most prominent reaction. I wish that more people would feel empowered to go on extended travels. We are not saying that school, career and stability are not important. They are. However, the lessons learned from the road, even if for a short while, will make you a stronger person. It will make you value our world more, able to relate to diverse people, and a happier person in general. Regardless of your career, it will also make you a better professional. It will give more meaning to every other aspect of your life.
Desi Globetrotter: Of all the places you have visited, which one was your favourite and why?
Diya Luke: We really can't say that any place was our favorite. Istanbul was definitely the most surprising, in so many different ways. My favorite place is around our breakfast table, no matter where in the world it is. It's where our family plans out the day, excited by all the possibilities that lie ahead.
Desi Globetrotter: Was there a place that was your least favourite, most disappointing, or most challenging?
Diya Luke: We try to limit expectations wherever we go as we find this is the best way to objectively absorb our new home and assimilate to the culture. The most challenging place was probably India. We stayed with family and had to balance wanting to explore on our own versus being respectful of the guidance our families set.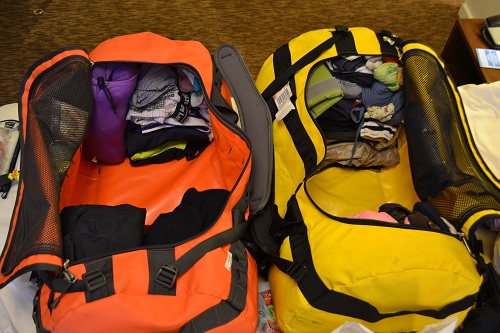 Desi Globetrotter: We live in an age where both children and adults want the latest consumer gadgets and toys and in a perfect world it would be great to pack everything and go. But carrying heavy luggage can be a pain. What toys did you bring on the road for the kids? What did you, Sandeep and kids leave behind?
Diya Luke: Everything we need is in two duffle bags. The four of us share one toy – the iPad. It's loaded with children's games and books. In each new location we pick up a few things for the kids such as paints or stickers. Otherwise, we find playgrounds and make friends at local schools. The kids are forced to be creative, to make toys out of everyday things and games out of each other's imagination.
Desi Globetrotter: What travel gear was the most useful? The least useful?
Diya Luke: Apart from my medication, there is absolutely nothing that we could not have purchased along the way. We used almost everything we packed because we packed very basic stuff – clothes, shoes and toiletries. I would say our most useful material good as a traveler is our camera. The least useful was the copious amount of hand sanitizer. We all learned to get comfortable with germs. Maybe that's why we don't get sick very often.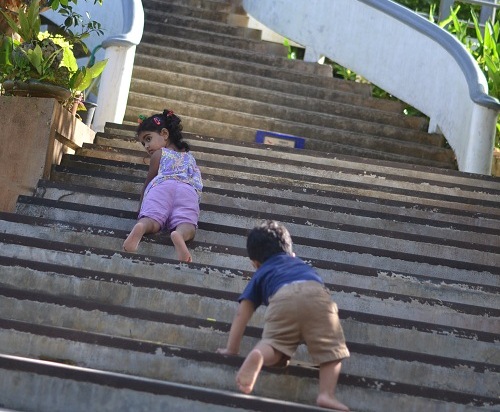 Desi Globetrotter: What lessons have you learned on the road? Have you seen any changes in the children?
Diya Luke: I think it will be some time before we can truly process all the lessons we have learned. One of the most obvious ones is that climate change is very real and many of the natural wonders we saw may not to around when our kids grow up. We're doing our best to teach our kids to be responsible for the environment and they are very conscious of things such as litter as well as water and electricity usage. We have also learned to appreciate so many freedoms that we used to take for granted.
Desi Globetrotter: How did your personal definition of travel develop over the course of your many adventures?
Diya Luke: Personally, travel meant being who I am somewhere else. Over this journey I have spent time exploring my own personality and growing. I have learned how to travel – intellectually, spiritually, culinarily, etc, – without going far.
Desi Globetrotter: If there was one thing you could have told yourself before your trip, what would it be?
Diya Luke: Don't try to get Kayan potty trained. He's only two years old and it's much easier to clean up a diaper than a mess on a train, plane or bus.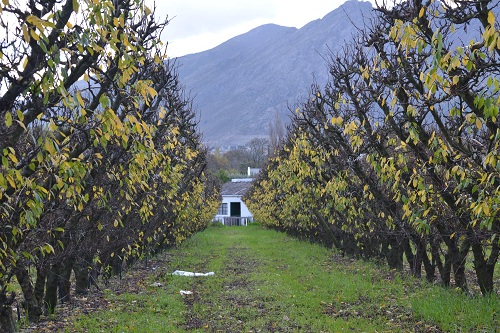 Desi Globetrotter: Any advice for families hoping to embark on a similar travel adventure?
Diya Luke: Don't hope. Do! Once you start thinking about your life and what you really need, you will realize that you can get by with very little. If you need further inspiration read my post Anyone Can Travel, Just Let Go.
Desi Globetrotter: Parents worry about children's safety, getting sick while on the road and receiving medical treatment in a foreign country. Have your kids gotten sick on the road? Any advice for parents?
Diya Luke: Our advice is don't worry. The kids have gotten fewer colds and coughs these past eight months than they get over one winter in New York City. The kids needed routine vaccines in Greece and the pediatrician made a house call at a fraction of the cost we would have incurred even with insurance at home. Kayan happened to get a 24 hour virus in Namibia. We were directed to a top hospital, where a doctor met and treated him within half an hour. We couldn't have relied on that level of service back home.
Desi Globetrotter: Another concern for parents may be that their children won't get to socialize with other children their age while on the road. Is this true? Is it easy to meet other families while on the road? What are some resources for families to reach out and meet others?
Diya Luke: We sought out playgroups and schools in most places. It was important to us that our children had their own ways of socializing in our host countries. They were part of a drumming circle in Thailand, frequented playgrounds in Malaysia, Turkey and Greece, and attended schools in India and South Africa. The kids enjoyed these activities, even when their peers spoke a foreign language. There are several Facebook groups for expat families in various cities, and we joined a few of those to connect with other transient parents.
Desi Globetrotter: Where are you headed to next?
Diya Luke: We're off to Rio de Janeiro in August. That will be our last stop before heading back to The States.
You can follow their family adventures at www.minordiversion.com.