Global Traveller: Dave from Dave's Travel Corner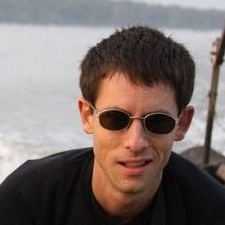 First Name:
Dave
Age:
38
Current City:
California
Website:
Dave's Travel Corner:  http://www.davestravelcorner.com
Above the Clouds Blog: http://www.davestravelcorner.com/blog
The Napa Wine Project: http://www.napawineproject.com
Personal Travel Quote:
"Ownership of most things is overrated. Ownership of worldly experiences is not."
Name some of the places you have travelled to in your adult years?
Many countries on all continents – except Antarctica. Nearly 100 to date.
Of all the places you have visited, which one was your favourite and why?
I cannot narrow this down to a particular country – rather I have favorite regions – Micronesia, Eastern Africa, Southern Europe. However I will always have a special feeling towards Nepal. It is the country that first turned me onto independent International travel. I love mountains, raw outdoor experiences and Nepal over delivers in this regard!
Was there a place that was your least favourite, most disappointing, or most challenging?
I would have to say parts of Florida in the middle of July – circumstances surrounding this trip made it especially challenging. I had co-founded a team that built a solar car in college and we had just finished 4 years of work, fundraising, engineering, sponsorship etc and had taken it to a race on the East Coast of the USA. This was the post race trip and we were completely exhausted after all the work, driving 56 hours straight across the entire USA (taking turns) and during our stay in Florida we were camping out every night where we encountered the worst mosquitoes I've ever seen (swarms and swarms of them) coupled with towel wringing high heat and humidity.
What was your job or source of travel funding for these trips?
I make money three ways – from advertising on my travel site, from giving wine tours in the Napa Valley (California) and from a very tiny Internet provider friends and I have run for a number of years. Sometimes my trips will be sponsored by a tourism board – I often Couch surf which saves significant accommodation costs.
Did you work or volunteer while on the road?
I need to do more volunteer work – my last volunteer vacation was in Ghana 2 years ago where I was helping build a website in a small rural village – where the focus was on clean water, education and supplies for primary grade schools. My travel site allows me to work from the road as long as I have an Internet connection.
What do your parents say when you travel? Any memorable quotes?
They used to ask me for my flight schedule before each trip and itinerary. They would worry a lot. Now they no longer do this as I'm on the road very frequently these days and often I have no itinerary when I travel. They have gotten used to my frequent trips. It also helps that my brother and sister started traveling often – that takes off some of the pressure.
Did any of your pre-trip worries come true? Did you run into any problems that you hadn't anticipated?
That's the beauty and challenge of travel – there are always complications, flight delays, bad places to stay – but you make the best of the situation. Challenges during travels are what makes travel interesting and can also build character! My worst worries are about getting sick on the road – this has happened many times as I have a weak constitution or perhaps I am over eager to try pretty much any type of food most anywhere!
What travel gear was the most useful? The least useful?
Since I work from the road often, I love my iPhone, Macbook Air, Toshiba Portege Ultrabook (so light!), and my Canon 50D SLR camera.
I travel as light as possible and have found the least useful piece of gear is anything that cannot be carried onto the plane – large suitcases, bags etc. The European travel guru Rick Steves just sent me his new "rolling backpack" to test out – it is both a backpack and a roll aboard. I'm anxious to try this out on my next trip – it combines the best of both worlds!
What lessons did you learn on the road?
Always be willing to compromise – especially if you are not traveling solo – seek out new experiences – adventure, foods, urban or rural activities. Don't restrict yourself to one type of travel or one type/style of accommodation.
How did your personal definition of travel develop over the course of your many adventures?
It took a number of trips but eventually my perspective on the world broadened – there were places I originally had no interest in visiting because of what I had heard in the media from friends etc – and by visiting those places my stereotypes were often shattered. I met a friend in college who was all about the experiences – growing up I wouldn't venture too far from my comfort "shell" – he was all about trying new things. That rubbed off on me and travel is the perfect outlet for this.
If there was one thing you could have told yourself before your trip, what would it be?
When I first went on a mountain climbing trip I wish I had known that my body does not adjust well to high altitudes! Now when I go on trips either for mountain climbing or high altitude trekking I always have to plan extra time to acclimatize before going higher.
Any advice for someone hoping to embark on a similar travel adventure?
For independent travelers – just do it and don't try to plan out all the details! Pack light. Meet people – seek out other travelers as well as locals. Be respectful of local customs and culture.
Where and when do you think you will take your next international journey?
That's easy, I leave in 2 days for Thailand and then on to Chennai for my sister's wedding ceremony. I've been to India before – but this time I am really looking forward to experiencing the culture in the southern part of the country – and I hear Indian weddings can be extremely popular.
*Interested in being profiled in Desi Globetrotter's "Global Traveller" section? Check out the submissions page for more info.*